Politics
2014-August-27  16:09
Nuclear Chief: Iran Ready to Launch New Generation of Centrifuges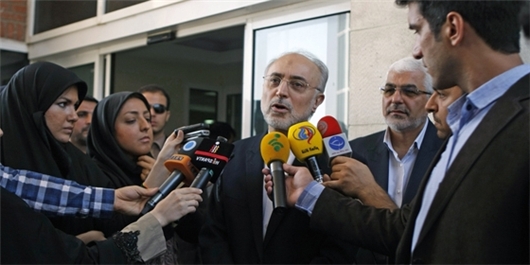 TEHRAN (FNA)- Iran's nuclear chief Ali Akbar Salehi announced on Wednesday that Tehran is preparing to launch a new generation of nuclear centrifuge machines called IR8.
"We have introduced the latest generation of our centrifuges, IR-8, whose SWU (Separative Work Unit) stands at 24 to the (International Atomic Energy) Agency," the head of the Atomic Energy Organization of Iran (AEOI) said in a televised interview with Iran's state-run TV on Wednesday.
"These centrifuges have undergone mechanical tests, but we haven't yet injected (UF6) gas into them as it requires a relevant permission by the president," he added.
Salehi underlined that Iran is entitled to the right to build new centrifuge machines which has also been stressed in the Geneva deal inked between Tehran and the world powers in November.
He said that the ground has been prepared for Iran's further progress by building the new generation of such centrifuges.
In relevant remarks in December, a senior Iranian nuclear official said that the AEOI has provided the UN nuclear agency with information about the country's new generation of centrifuges.
"The AEOI has provided the (International Atomic Energy Agency) with necessary information about the research being carried out on the country's peaceful (nuclear) activities on time and within the framework of the Safeguards Agreement," Spokesman for the AEOI Behrouz Kamalvandi said at the time.
Kamalvandi added that the new generation of centrifuges has more capacity compared to the first and second generations and have undergone initial tests.
The Iranian official said the new generation was produced in line with the AEOI policy to enhance enrichment machinery and increase production capacity.
Iran announced in July that it is in need of 190,000 SWU to fuel its power and research reactors.
"We need almost 190,000 SWU for an agreed time interval, meaning the next 8 years, to provide fuel for Bushehr nuclear power plant so that we can provide the fuel for this power plant, Tehran research reactor and Arak reactor after the end of our contract with Russia (which has built Bushehr nuclear power plant)," Salehi told FNA.
"We don't define enrichment on the basis of the centrifuge machines, but on the basis of its unit, that is SWU," he explained.
Salehi underlined that the number of centrifuges needed for having 190,000 SWUs depends on the type of the centrifuge machines.
He said Iran's first generation IR1 centrifuge machines have a nominal output of over 3 SWUs, but in practice they yield less than 2 SWUs, meaning that "if we want to reach the above-mentioned 190,000 SWUs with the help of these (IR1) machines, then we would need more numbers".
Also in July, Supreme Leader of the Islamic Revolution Ayatollah Seyed Ali Khamenei rejected the world powers' demand from Iran to suffice to 10,000 SWU for enriching uranium, and underlined that "according to the relevant (Iranian) officials the country definitely needs 190,000 SWU".