Politics
2014-November-2  15:16
Commander Underlines IRGC Navy's Readiness to Defend Iran's Water-Borders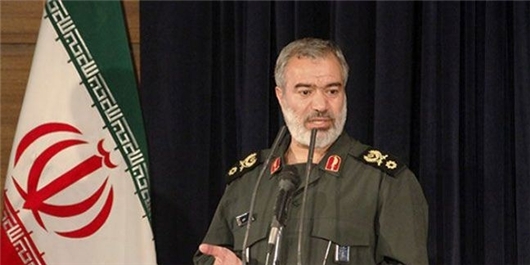 TEHRAN (FNA)- Islamic Revolution Guards Corps (IRGC) Navy Commander Rear Admiral Ali Fadavi underlined that the IRGC Navy has developed its tactics and strategies to become fully prepared to defend Iran against enemies' threats.
Admiral Fadavi highlighted the capabilities of the IRGC naval forces in maritime battles, adding that the Islamic Republic of Iran pursues the withdrawal of US forces from the Persian Gulf.
He pointed to the military exercises held by Iranian Armed Forces to prepare for countering enemy threats, stressing, "The destruction of US naval forces is among the objectives (pursued by) the IRGC Navy."
"We are simulating this (mission) on a replica aircraft carrier because destroying and drowning American warships have been and will remain on our program," added the high-ranking Iranian admiral.
Fadavi further stated that the Islamic Republic's naval forces have acquired ultra-speed missiles capable of striking underwater targets.
"We unveiled Hout (super-cavitation) torpedo, which is a missile exclusively-manufactured by Russians, during Great Prophet Maneuver I (in 2006). This missile can travel underwater at the speed of 100 meters per second," he said.
The IRGC is responsible for the security of the Persian Gulf. In 2008, Major General Yahya Rahim Safavi, former commander of the IRGC and the current military advisor to the Supreme Leader of the Islamic Revolution, declared that the responsibility for defending the Persian Gulf had been handed over to the IRGC.
He warned that the IRGC would seal the strategic Strait of Hormuz in case the US launches any attack on Iran's nuclear installations.
Iran's naval power has even been acknowledged by foes. In a Sep. 11, 2008 report, the Washington Institute for the Near East Policy said that in the two decades since the Iraqi imposed war on Iran, the IRGC has excelled in naval capabilities and is able to wage unique asymmetric warfare against larger naval forces.
According to the report, the IRGC Navy has been transformed into a highly motivated, well-equipped, and well-financed force and is effectively in control of the world's oil lifeline, the Strait of Hormuz.
The study says that if Washington takes military action against the Iran, the scale of the country's response would likely be proportional to the scale of the damage inflicted on the Iranian assets.