Politics
2014-December-16  17:18
Iranian Experts Overhaul US-Made Bell 412 Helicopter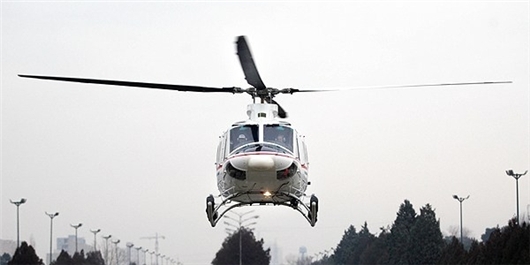 TEHRAN (FNA)- Experts of Iran's Helicopter Renovation and Logistics Company (PANHA) in cooperation with Iran's Civil Aviation Organization (CAO) overhauled a 15-seater Bell 412 helicopter for the first time in the country.
The Bell 412 is a twin-engine utility helicopter and a development of the Bell 212 with the major difference being the composite four-blade main rotor.
The chopper was brought back into operation in a ceremony participated by Managing-Director of PANHA General Mohammad Ali Ahmadabadi on Tuesday.
In addition to its military missions, the helicopter is used in the oil, gas and petrochemical industries for different trade and off-shore missions, including in the protection, discovery and exploitation of oil and gas fields, marine search and rescue operations over the water borders and delivery of passengers and cargos.
The chopper, manufactured by the US Bell Helicopters company, was overhauled in one year and will be delivered to Iran's Helicopters Company soon.
Head of Iran's Helicopters Company Seyed Mahmoud Azin announced in November that Iranian experts are able to repair and overhaul all types of choppers.
"We can overhaul the country's helicopters and check them after every three thousand hours of flying," Azin told FNA.
He also underlined the high capabilities of the Iranian pilots, and said, "Even the Americans know how high the capabilities of the Iranian pilots are."
Elsewhere, Azin referred to Iran's purchase of a US-made Bell 412 helicopter, and said the helicopter will join the country's air fleet in 15 days.
In recent years, Iran has made great achievements in its defense sector and attained self-sufficiency in producing essential military equipment and systems.
Last November, the newly-overhauled SH3D combat helicopter came back into operation in a ceremony attended by senior Iranian commanders.
The helicopter came back into operation for the Navy after nearly 20 months of overhaul repairs and seven months of tests.
Iranian Defense Minister Brigadier General Hossein Dehqan announced in June that his ministry had overhauled 20 helicopters and brought them back into action for the country's different military forces.
"The experts and staff of the Defense Ministry's Aviation Industries Organization have overhauled 20 helicopters of the Armed Forces at PANHA company and we are now observing their delivery to Iran's honorable Armed Forces," Dehqan said in Tehran.
The minister said the 20 helicopters belonged to different categories and models, including "205, 212, 214, 412, SH, RH, CH and Mil".