2021-September-18 12:13
Politics
2015-December-21  19:42
DM: Iran Boosting Missile Production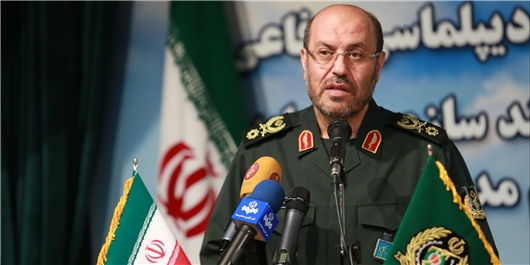 TEHRAN (FNA)- Iranian Defense Minister Brigadier General Hossein Dehqan underlined that the country has developed its missile industries and production.
"We have not halted designing, producing and testing our missiles, (on the contrary) we have even increased our production," General Dehqan said, addressing a ceremony in the city of Sari, Northern Iran on Monday.
The Iranian Defense Minister, however, said that Tehran has never had any plans to produce nuclear warheads for its missiles.
The Iranian Defense Minister reiterated that the constant updating and upgrading of military equipment and weapons stands atop Iran's agenda as it needs to ensure protection against enemies.
General Dehqan, meantime, pointed to the nuclear agreement between Iran and the Group 5+1 (the US, Russia, China, France and Britain plus Germany) the commitments and undertakings of the western countries, and said, "We will implement the JCPOA only if the other side fulfills its commitments and if it fails to do so, we will drop the implementation of the JCPOA."
In relevant remarks on December 16, General Dehqan underscored that Iran will keep on improving its missile capabilities even under the limitations envisaged in the UN 2231 resolution on the nuclear agreement with powers.
Although certain sides claim that Iran's endorsement of the Joint Comprehensive Plan of Action (JCPOA) – on the nuclear agreement between Tehran and the six world powers clinched on July 14 – means that it has accepted certain restrictions in military areas, including its missiles, tests, operations and drilling activities, but "we have shown that despite certain limitations in the 2231 resolution, we continue research, development and production activities with all the (needed) tests and dimensions", Dehqan said in Tehran.
The minister reiterated that since endorsement of the deal, Iran has not stopped or postponed or changed its military development agenda. "Since day one of the endorsement of the JCPOA, our different tests have not postponed even for a single day, hour or moment; rather we have not even felt any doubt about declaring them."
In relevant remarks in August, Iranian President Hassan Rouhani underlined that Iran would not allow foreign countries to interfere in its defense and military affairs and will continue arms sales and purchase irrespective of the views of third party states.
"We will purchase weapons from wherever we deem necessary and we are not waiting for anyone's permission; if we deem necessary we will sell our weapons and we will do this without paying attention to any resolution," President Rouhani said, addressing a ceremony held to commemorate the National Defense Industry Day in Iran.
The Iranian president, meantime, lauded the achievements of the Iranian experts and engineers in the defense industry sector.
"There is a high-speed movement towards self-sufficiency in the defense industry sector," President Rouhani said.
He reiterated that Iran was pursuing a defensive and deterrence strategy, and said, "We pursue the policy of détente, convergence and confidence-building with the world, yet this policy does not run counter to our defensive power and industry."
In recent years, Iran has made great achievements in its defense sector and attained self-sufficiency in producing essential military equipment and systems.
On October 11 (4 months after the nuclear deal), Iran successfully test-fired the country's new precision-guided long-range ballistic missile that can be controlled until the moment of impact. Emad carries a conventional warhead.
"This missile (Emad) which has been fully designed and made by Iranian Defense Ministry's scientists and experts is the country' first long-range missile with navigation and strike controlling capability; it is capable of hitting and destroying the targets with high-precision," General Dehqan told reporters after the successful test of Emad missile.
The Iranian Defense Minister reiterated that the manufacture and successful testing of Emad missile is a technological and operational jump in a strategic field, and said, "We don't ask for anyone's permission for boosting our defense and missile power; we resolutely continue our defense programs, specially in the missile field, and Emad missile is a conspicuous example."
General Dehqan felicitated Supreme Leader of the Islamic Revolution Ayatollah Seyed Ali Khamenei, Iranian Armed Forces and the Iranian nation on the successful testing, and appreciated the scientists and experts of the Aerospace Industries Organization of the Defense Ministry.
The Iranian Defense Minister reiterated that the mass production and delivery of Emad missile to the country's Armed Forces will considerably increase their power and tactical capabilities.
The Iranian Armed Forces have recently test-fired different types of newly-developed missiles and torpedoes and tested a large number of home-made weapons, tools and equipment, including submarines, military ships, artillery, choppers, aircrafts, UAVs and air defense and electronic systems, during massive military drills.
Defense analysts and military observers say that Iran's wargames and its advancements in weapons production have proved as a deterrent factor.
The Iranian officials have always underscored that the country's defense program cannot be affected by the nuclear deal clinched between Iran and the world powers on July 14 and the UN Security Council resolutions.