Politics
2018-April-20  18:02
IRGC Deputy Top Commander: Israel Living in Dragon Mouth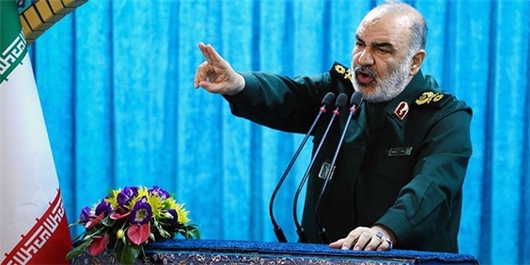 TEHRAN (FNA)- Lieutenant Commander of Islamic Revolution Guards Corps (IRGC) Brigadier General Hossein Salami warned Israel to avoid sabre-rattling against Iran, saying that his country would wipe Israel off the map in a twinkling of an eye if Tel Aviv proves to be fool enough to spark war on Iran.
"We know you well, you are too vulnerable, you have no depth and no backyard, you are the size of our Beit-ul-Moqaddas operations (during the 1980-88 Iran-Iraq war), any point in the land under your occupation is a cross point of fire from North and from West, and this is a new phenomenon. You have no way out to escape and you are living in dragon mouth," General Salami said on Friday, addressing the Zionists.
He reiterated that the resistance front is much more resistant and enduring than the past, and cautioned the Israelis to avoid thinking that any new war would be like the one in 2008, the 33-day war of 2006 or the 51-day against the Palestinians in Gaza. "You have seen how the resistance front sweeps the Takfiris when fighting against them and how it removes the weeds; you are never stronger than them, your wickedness has increased."
General Salami told the Zionists to be aware that in case of outbreak of any war "you can be assured that it will result in wiping you off, the smallest target is your existence, there is no smaller target than that".
"You may not stand to the domino of occupation when your soldiers and citizens start escaping; you have no way out to escape, but swimming in the sea. Don't trust your airbases, they are within reach and they will become idle soon," he added.
General Salami advised the Tel Aviv regime not to pin hope on the US, Britain and France, and said, "You are gone when they arrive there like an ambulance sent to a dead man that can only take him to the graveyard; then, behave yourselves and avoid doing dangerous calculations."
Various Israeli officials have recently raised their tone and started beating on the drums of war to deter Iran's reprisal for a direct Israeli hit on Iranian advisors at a base in Syria some two weeks ago.
Senior Israeli military and security officials, including Prime Minister Benjamin Netanyahu, have vowed even full-scale war after they raised tensions and killed several Iranian military advisors. Iran says the crime will not go unpunished.
Two Israeli fighter jets struck the T4 military base in Central Syria from the Lebanese airspace on April 8, killing and wounding over a dozen militaries, including seven Iranian military advisers. Israeli F-15 warplanes fired eight guided missiles, but Syrian air defense units shot down five before they could hit the air base. Three of the missiles reached the Western part of the military airport.
The incident came two months after an Israeli F-16 fighter crashed after Syria responded with anti-aircraft fire to Israel's operation in its territory. Damascus said its military base came under Israeli fire, and it hit multiple aircraft in response.
Tel Aviv has claimed that the Israel Defense Forces (IDF) intercepted an Iranian UAV, which crossed from the territory of Syria into Israel, but it has so far failed to provide any proof that the drone belonged to Tehran or flew over the Israeli occupied part of the Golan Heights.
Almost a week later, New York Times columnist Thomas Friedman quoted senior Israeli military officials as acknowledging the attack as a direct hit at Iranian targets by Tel Aviv.
"It was the first time we attacked live Iranian targets — both facilities and people," the Israeli military source was quoted by Friedman as saying in an April 15 article in New York Times.
The comments have attracted attention in Tehran since it's one of the very rare, if at all, cases that an Israeli military has admitted offensive operation outside its borders, but what makes it even more vital is that it is the first time an Israeli military admits a planned attack on Iran.
Once Friedman released the story the Israeli Army rushed to stop or lower the costs of such an acknowledgement by disputing "the characterization and accuracy of the raid by my Israeli source".
Tehran has confirmed that seven of its military advisers have been martyred in Israel's assault, publicly vowing to take revenge from the Tel Aviv regime.
Iranian Supreme Leader's top aide for international affairs Ali Akbar Velayati has cautioned that Israel should be waiting for a powerful response to its night airstrikes on the Syrian airfield, saying "it will not remain unanswered".
Iran's Foreign Ministry has also lashed out at the Israeli regime for the attack on the T4 base, warning that Tel Aviv will be punished for its aggressive action.
The Tel Aviv regime has launched sporadic attacks against various targets on Syrian soil over the past few years, in assaults slammed by Damascus as attempts to boost terrorist groups who have been suffering heavy defeats on the battlefield with President Bashar Assad forces.
The Syrian army has also seized Israeli-made arms and military equipment from militants fighting pro-Damascus forces on numerous occasions ever since the war of militancy started in the country. Israel has also admittedly been providing medical treatment to the militants wounded in the Arab country.