2021-July-29 13:41
Politics
2018-May-7  15:06
Iran Confirms Zarif-Kerry Meeting in New York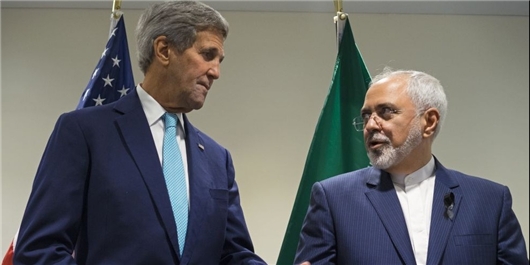 TEHRAN (FNA)- Iran on Monday confirmed media reports that Foreign Minister Mohammad Javad Zarif had met with former US Secretary of State John Kerry in New York two weeks ago to salvage the 2015 nuclear deal, but meantime, stressed that the minister has had no meeting with the Trump administration officials.
"We don't see the US just as Mr. Trump; the United States is not just the current ruling administration and there are many figures who have different views on international and regional issues," Foreign Ministry Spokesman Bahram Qassemi said.
He described Kerry as a political figure somehow aware of issues related to Iran who can leave major influence on the US public opinion, and said, "During the trip (to New York), a meeting was held (between Zarif) with Kerry, although you know that at present, Kerry doesn't hold any government post."
Qassemi said that the nuclear deal was certainly one of the issues raised during the Zarif-Kerry meeting, but meantime underlined that "during the trip no talks and meeting was held with the US officials".
The US media reports said last week that Kerry reportedly met Zarif at the United Nations in New York for a second meeting in as many months amid threats by US President Donald Trump to withdraw from the nuclear agreement by May 12.
According to the Boston Globe, the Obama administration's top diplomat has also met with German President Frank-Walter Steinmeir, French President Emmanuel Macron on two occasions, and spoken on the phone with EU's foreign policy chief Federica Mogherini in an attempt to save the agreement that he spent years negotiating with other world leaders.
Western media reports claimed last week that Trump has "all but decided" to withdraw from the agreement, formally known as the Joint Comprehensive Plan of Action, and to allow nuclear-related sanctions on Iran that were suspended under the nuclear deal to snap back into effect.
Iranian Deputy Foreign Minister Seyed Abbas Araqchi warned on Sunday that abrogation of the internationally-accepted 2015 nuclear deal would endanger the non-proliferation mechanism in the world and stir more crises in the region.
"The nuclear deal, before anything else, is a security agreement in area of non-proliferation and any move against it will weaken the non-proliferation mechanism and exacerbate crises in the region and will confront all of us with the two choices of security and insecurity," Araqchi said at a meeting with his Swedish counterpart Annika Soder in Tehran.
He also warned that any attempt to link the nuclear deal with other issues and ignore the US violation of the agreement is a wrong approaches and will further complicate the regional and international situation.
"The nuclear deal is a colossal historical experience and choice and its success in light of collective efforts and support will ensures the interests for entire world," Araqchi said.