Politics
2019-July-23  11:40
Navy Commander: Iran in Possession of Intercontinental Drones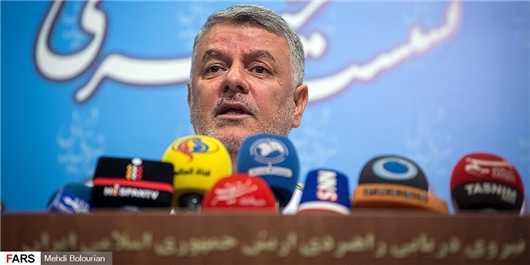 TEHRAN (FNA)- Iranian Navy Commander Rear Admiral Hossein Khanzadi said his country's Armed Forces are equipped with intercontinental drones, adding that they are now being used by Iran to monitor the Indian Ocean.
"We have this type of drones and we will certainly use them if necessary. These drones are being used in the vast region of the Indian Ocean now," Rear Admiral Khanzadi said in an interview with the Persian-language service of YJC on Tuesday.
He noted that Iran's intercontinental drones can be guided in distanced areas with a connection link or cut-link system, adding that new drones are joining the Navy.
Rear Admiral Khanzadi also said that the drones of the naval forces of the Iranian army and Islamic Revolution Guards Corps (IRGC) monitor the Persian Gulf and the Sea of Oman on a full scale.
Elswhere, he warned Iran's enemies to take good caution against their hostile moves, saying the Iranian naval forces could be monitored in just some regions, while it stays invisible in some other part. "The enemy should wait to be surprised from where he can't see us," the Admiral warned.
Iran has made great achievements in developing drones and missiles after the Islamic Revolution.
Commander of the IRGC Aerospace Force Brigadier General Amir Ali Hajizadeh underlined in November Iran's major advances in designing and manufacturing different state-of-the-art drones.
"We are even ahead of the top world powers in the drones sector and we are way ahead of them," General Hajizadeh said, addressing a ceremony in the Northern city of Qazvin.
He described Iran as the top regional power in the sector, saying that the country had been able to develop different types of home-made missiles as well.
"The young Iranian people have managed to put the country at the peak of power with their excellent ideas in the radar, missile and drone sectors," General Hajizadeh said.
The Iranian Army Ground Force last Wednesday received 3 new home-made combat drones, namely 'Mohajer 6'.
"Three Mohaher 6 combat drones joined the drone fleet of the Ground Force and we will witness a new arrangement in the drone operations of this Force," Commander of Vali-e Asr drone group of the Army Ground Force Brigadier General Shahram Hassannejad said.
He added that Mohajer is capable of destroying targets powerfully and with a high precision power, adding that it can also detect and monitor the regions under the control of the Ground Force.
General Hassanzadeh also said that high range, considerable flight durability up to 24 hours and capability to carry rockets with high-precision power for day and night missions are among other features of the drone.