Politics
2019-November-10  17:41
Iran's EB Children Victimized by US Sanctions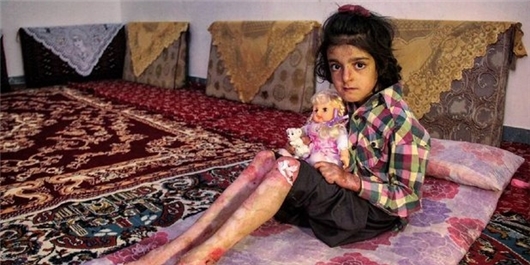 TEHRAN (FNA)- Iranian children suffering from epidermolysis bullosa (EB) are the new victims of inhumane US sanctions against Tehran, as Washington's bans are preventing a Swedish supplier from sending protective bandages to the country, according to an NGO which says American bans have so far killed 15 of these children.
Iranian children suffering from a rare skin condition known as EB are losing their lives as US economic sanctions hamper the flow of vital medical products, an NGO says.
Hamid Reza Hashemi-Golayegani, the head of the NGO that helps such patients, said on Sunday that at least 15 Iranian children with epidermolysis bullosa (EB) have died since the US launched its new sanctions on Iran in August.
That is because Swedish medical companies which provided protective bandages for such patients have halted supplies due to the restrictions, he said.
Often known as butterfly children because their skin is as fragile as the wings of a butterfly, EB patients need special care. Even mild frictions or bumps cause severe blistering of the skin which is very painful.
They often have difficulty with their daily activities, such as walking, eating and even breathing, but without proper protective bandages, their agony would be heartbreaking.
The trade of humanitarian goods, such as food, medicine and medical devices, is on paper allowed by the US, still European companies refuse to do business with Iran, fearing secondary American sanctions.
Since the reimposition of sanctions, Swedish medical products firm Molnlycke Health Care has stopped delivering Mepilex dressings which are trusted around the world to treat a wide range of chronic and acute wounds, including in EB patients, Iranian media reports say.
On Tuesday, Permanent representative of Iran to the United Nations Office in Geneva Esmayeel Baqayee Hamaneh censured the US for imposing sanctions which are globally considered as illegal, adding that Washington is violating human rights principles by obstructing patients' access to needed medications.
Baqayee Hamaneh called the US "blind and inhumane sanctions" as one of the challenges that violate the human rights of the Iranian people, including the right to health and the right of free access to medicine and treatment.
He made the remarks, addressing a ceremony at the Human Rights Achievement Exhibition in Geneva.
Baqayee Hamaneh also pointed to the great challenges that have been imposed on the path of growth and development of the Iranian people over the past four decades, and went on to say that the Islamic Republic of Iran has firmly believed in national capacities and relied on popular support to overcome these obstacles.
In relevant remarks last month, Iranian Health Minister Saeed Namaki condemned the US medical sanctions against the country, calling for the World Health Organization (WHO)'s action against Washington.
"The US cruel sanctions and blocking the Iranian people's access to medicine, medical equipment and food stuff threatens the Iranians' heath and is a crime against humanity," Namaki said, addressing a conference of the East Mediterranean countries' health ministers in Tehran.
He said that Iran is committed to provide health and hygiene services to all people living in the country, including the Shiites, Sunnis, Jews, Christians, Zoroastrians and even prisoners who have received death sentence, calling on the WHO not to allow the US warmongers to threaten people's health by sanctions and pressures.