2021-May-12 06:58
426
2020-January-20  22:24
A New Game Between Russia, Turkey, EU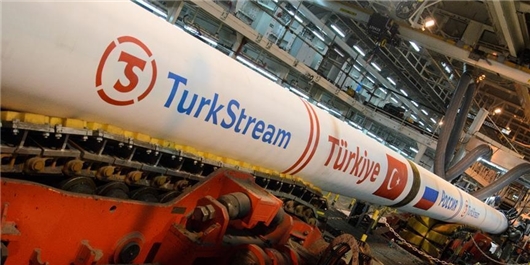 TEHRAN (FNA)- On January 8, 2020, the presidents of Turkey and Russia formally launched the TurkStream pipeline which will carry Russian natural gas to southern Europe through Turkey, part of Moscow's efforts to reduce shipments via Ukraine.
The pipeline project, stretching 930 km across the Black Sea, reinforces strong energy ties between Moscow and Ankara, which have also increased defense cooperation after Turkey bought advanced Russian missile defenses last year.
In 2008, natural gas supplied via Ukraine to Europe accounted for 95 percent of Russia's total exports to Europe. In order to bypass Ukraine, Russia has in the past initiated the construction of Nord Stream 1, Nord Stream 2, Blue Stream, South Stream and other pipelines.
Following the Ukraine crisis, Russia-EU relations deteriorated, and the South Stream project was halted. Russia decided to build TurkStream on the basis of Blue Stream. TurkStream, Nord Stream 1 (in operation) and Nord Stream 2 (still under construction) can bypass Ukraine, and together, will form a strategic corridor for Russia's natural gas supply to the EU.
TurkStream is conducive to strengthening the Russia-Turkey strategic cooperation. After the TurkStream project kicked off, Russia-Turkey relations quickly warmed up. Russia sought to deepen relations with Turkey through energy cooperation and strengthen Russia-Turkey strategic cooperation, so as to have Turkey's political support, mitigate the adverse impact of Western sanctions, and strengthen its influence in the Middle East.
The pipelines will also partially mitigate the impact of Western sanctions. Russia's economic growth is heavily dependent on energy exports. After the Ukraine crisis, Russia's economy has been thrown into a crisis and has not yet recovered.
TurkStream will not only boost Russia's natural gas exports to Turkey, but also expand its gas supply to southeastern European countries such as Greece, Hungary and Serbia, hence increasing its energy export revenue.
In this respect, Turkey has nothing to lose and all to gain. Firstly, as Turkey faces a shortage of domestic energy production and relies heavily on energy imports, the arrival of TurkStream will reduce its dependency on the Middle East for energy imports and give it access to a long-term stable source of natural gas supply.
Secondly, the pipeline will strengthen Turkey's strategic position as an energy hub. Its geographic position is close to Russia, the main energy producers in the Middle East and energy importers in Europe.
For many years, Turkey has been committed to building energy infrastructure in the hope of linking energy importers and exporters. The completion of TurkStream will consolidate its position as an energy hub, and Turkey will also be able to collect transit fees to balance its energy trade deficit.
Thirdly, the inauguration of the pipeline will increase Turkey's leverage against the US and EU. Contradictions between the US and Turkey over Kurds, Syria and other issues have intensified in recent years. Stronger strategic cooperation with Russia will allow Turkey to align itself with Russia against the United States.
Besides, the country's accession to the EU has been stalled. Through the TurkStream project, Turkey will be able to improve its status as an energy transit country and gain greater leverage in its engagement with the EU.