World
2020-January-22  17:21
Hashd Al-Shaabi, Iraqi Security Forces Start Anti-ISIL Operations in Najaf, Karbala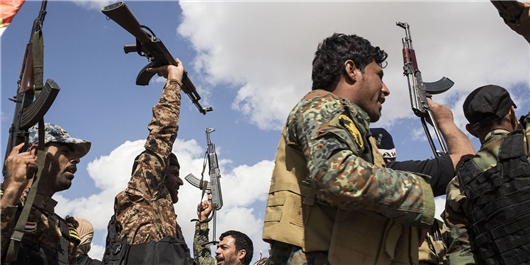 TEHRAN (FNA)- Hashd al-Shaabi and Iraqi security forces started cleansing operations against the remnants of the ISIL terrorist group in the two Southern provinces of Najaf and Karbala.
"Hashd al-Shaabi (Iraqi popular forces), the army, the police and border guards started Mantaqat al-Forat al-Awsat operations in 8 directions on Wednesday morning to establish security in Jazirat al-Najaf and Sahra al-Karbala regions," General Ali al-Hamdani, a commander of Hashd al-Shaabi participating in the operations, was quoted by the Arabic-language Wa'a news agency as saying on Wednesday.
He added that the operations have been planned based on precise intelligence gained after chasing and monitoring the moves by ISIL remnants in the region.
Al-Hamdani underlined that the Iraqi military forces will continue cleansing operations against the ISIL as scheduled despite bad weather conditions.
Hashd al-Shaabi forces have actively been involved in Iraq's fight against the terrorist groups, specially in bordering areas.
Reports said last Sunday that Iraq's Kata'eb Hezbollah popular forces would establish and transfer its members to a new military base near the borders with Syria after the US destruction of its headquarters last month.
"Kata'eb Hezbollah has chosen a new base on Akashat-al-Qa'em road to be its main base in the bordering areas between Iraq and Syria," an Iraqi border guard official told the Arabic-language al-Arabi al-Jadid.
He added that Hezbollah's new base is actually an old base belonging to the Iraqi army, noting that it will be reconstructed to replace the US-destroyed headquarters.
"Members of Kata'eb Hezbollah will likely be transferred to the new base in less than two weeks," the official said.
Late last month, the US drones bombarded a Kata'eb Hezbollah's base near the border with Syria in Iraq's Western province of Anbar, a Hashd Shaabi statement said.
The attack took place in when the US drones bombarded the base of Hashd Shaabi's 45th Brigade near the border town of al-Qaim, the statement said.
The bombardment left tens of the brigade's members killed and wounded.