World
2020-February-6  13:00
Khazali Reveals Collaboration between Iraqi Leaders, CIA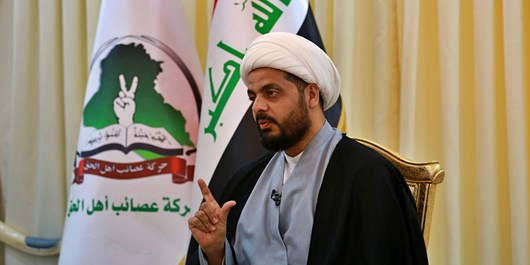 TEHRAN (FNA)- Leader of Asa'ib Ahl al-Haq Resistance Movement Qais Khazali claimed that based on documents provided to him by US-assassinated Commander of the IRGC Qods Force Lieutenant General Qassem Soleimani, one of the leaders of Iraq's three branches of power has been collaborating with the US intelligence agency (CIA).
Khazali said in a TV program named Liqa al-Khas that the documents sent by General Soleimani prove that one of the leaders of Iraq's three branches of power and the head of a key security body have been working for the CIA.
He noted that part of the US-Israeli project is being fulfilled by some local individuals in Iraq, adding, "One of the leaders of the three branches of power is playing more than one role. He has an active media group and has facilitated the snipers' mission to target the protestors."
Khazali said that the documents firmly show that the person has been recruited by the CIA and has gained the chance to take the leadership of one of Iraq's branches of power since late 2012 along with some others.
In relevant remarks in December, Khazali said that the Israeli and American spy services are behind violent attacks in Iraq, and they include attacks on protesters and even the US embassy in Baghdad.
Speaking to Qatar's Al Jazeera TV, Khazali said the Central Intelligence Agency (CIA) of the US and Israel's Mossad have formed a joint network that leads violent groups, and uses security companies to kill Iraqi protesters.
"The US seeks to tarnish our image by accusing us of complicity in killing protesters. How on earth can we kill our own people while we have lost our lives in the fight against the ISIL because of them," he asked.
Rather, Khazali added, it is the groups affiliated with the US that set fire to "our bases and murdered our forces, but we did not take revenge, because those acts were aimed at moving the country toward a civil war and tarnishing the image of Hashd al-Sha'abi."
"We have information that indicates the US is seeking to create chaos in Iraq through its intelligence apparatus and saboteurs inside the country and using its embassy," he warned.