2021-September-18 12:13
Politics
2020-February-9  15:04
Iran Unveils New Missile, New Generation of Propellants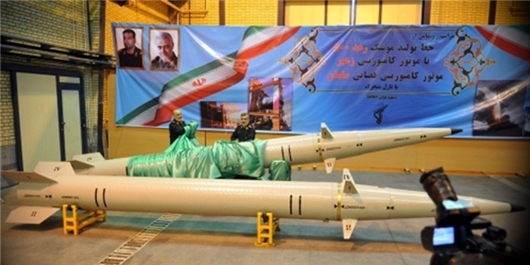 TEHRAN (FNA)- Iran on Sunday unveiled a new home-made missile named Ra'ad (Thunder) 500 in a ceremony participated by Commander of the Islamic Revolution Guards Corps (IRGC) Major General Hossein Salami.
Ra'ad 500 missile has a composite engine named Zahir and space composite engine named Salman with a movable nozzle as a new generation of propellants for missiles and satellite carriers.
The new missile weighs half of Fateh class of missiles, which has a steel body, and can hit targets 200km farther in range than Fateh.
Meantime, the IRGC's Aerospace Force unveiled missile engines with movable nozzles. Combination of composite body and movable nozzle in missiles paves the ground for Iran to use solid-fuel engines for sending satellites into space.
Last February, Iran had unveiled a newly-developed long-range cruise missile named Hoveizeh in a ceremony participated by Defense Minister Brigadier General Amir Hatami.
"The range of Hoveizeh missile is over 1,350km and it is good for targeting ground targets," Hatami said, addressing the ceremony.
He mentioned rapid reaction, low flight altitude, high precision in navigation and high destruction power as among the main features of the missile.
"Hoveizeh ground-to-ground cruise missile has been test-fired in a 1,200-km range and it managed to precisely hit the specified target," Hatami said, adding that the missile will increase the Iranian Armed Forces' capabilities and Iran's deterrence power.
Iranian officials have repeatedly stressed that the US pressures have failed to force Tehran compromise and curb its defense and missile capabilities.