2021-March-3 12:07
417
2020-February-10  11:55
Minister: Iran's Pursuit of Space Technology Unstoppable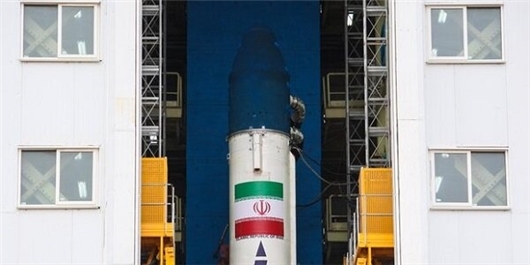 TEHRAN (FNA)- Iran's Minister of Information and Communication Technology Mohammad Javad Azari Jahromi said that his country's efforts to put Zafar satellite into orbit failed as is the case with many scientific attempts, adding that, however, his compatriots are resolute in their scientific efforts and not disappointed.
After the failure in orbiting Zafar satellite, Azari Jahromi said in a Twitter post that despite the failure "we're unstoppable," promising that "We have more Upcoming Great Iranian Satellites!"
The spokesman for the Iranian Space Agency (ISA) announced earlier the country had launched its domestically-made Zafar (Triumph) satellite using a Simorq satellite carrier, but the missile fell short of reaching the designated orbit.
The FNA, quoting the Public Relations Department of Iran's Defense Ministry on Sunday, cited Ahmad Hosseini as saying, "Simorq satellite carrier took Zafar satellite into space with success, but the carrier failed to reach the speed needed to get the satellite into the designated orbit.
He added that the data from the launch will be used to optimize future launch attempts.
The launch took place after Azari Jahromi said earlier on Sunday that the countdown had started for launching the country's Zafar satellite, which would orbit the Earth at an altitude of over 500 km.
He then expressed hope that the launch will open a new chapter in Iran's space activities.
The minister's remarks came after Head of the Iranian Space Agency (ISA) Morteza Barari announced earlier the same day that the Zafar satellite, designed and manufactured by the scientists and elite students of Iran University of Science and Technology, would be placed in orbit in one of the two weekend days of Thursday or Friday.
"The Zafar satellite is set to be launched by a Simorq carrier to be put in the 530-kilometer orbit, after which we will be able to provide various services to the people and society," Barari said in an interview with Iran's Fars News Agency.
The ISA head reaffirmed, "The Zafar satellite is capable of collecting images, providing telecommunication services and detecting space signals."
"The Zafar satellite has general applications and, in the near future, the important sectors of science, technology and environment will be all witnessing changes through using this national product," he added.
In January, Iran launched its Payam (Message) satellite into space with an aim to collect data on environmental change; however, technical problems that occurred during the final stage of the launch prevented the spacecraft from reaching orbit.
The launch of its carrier rocket was preceded by warnings from Washington, which claimed Iran's space rocket launches would violate a 2015 UN Security Council resolution, because they use ballistic missile technology.
Resolution 2231 merely "calls on" Iran "to refrain from any activity related to ballistic missiles designed to be capable of delivering nuclear weapons."
Iran maintains it has no intention of acquiring nuclear weapons, and says its aerospace activities are peaceful and do not violate the Security Council resolution.
Iran launched its first locally-built satellite, Omid (Hope), in 2009. The country also sent its first bio-capsule containing living creatures into space in February 2010, using Kavoshgar (Explorer)-3 carrier.
In February 2015, Iran placed its domestically-made Fajr (Dawn) satellite into orbit, which is capable of taking and transmitting high-quality photos to stations on Earth.
Meantime, on Saturday, Barari told FNA that his compatriot scientists and researchers had made great achievements in the field of space technology, adding that his country would send 4 home-made satellites into orbit in the next local calendar year (March 2020-March 2021).
He said Iranian researchers and scientists had made great accomplishments in the field of space and aeronautics, so much so that his country was among the top 5 countries of the world with a space station and among top 9 countries of the world in the field of designing and making satellites.
Barari added that accordingly, Iran would launch 4 home-made satellites into the space in the next local calendar year of 1399 (March 21, 2020-March 20, 2021), explaining that "one satellite would be sent to the orbit in each season".
"These will include two satellites for measurement and imaging and two others for IT purposes," he added.
Barari underlined that the ISA is after contributing to Iran's advancements and social welfare, reminding that satellites are like propelling engines for these goals.