Politics
2020-February-24  13:41
Merchants: Sanctions Obstructing Imports for Countering Coronavirus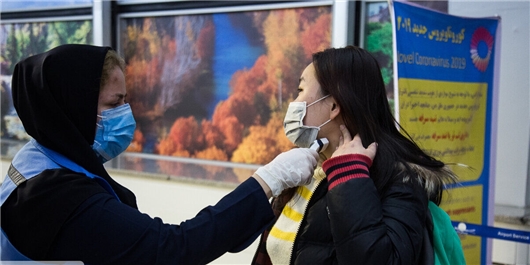 TEHRAN (FNA)- Iranian medication importers say that they are getting more and more pressed by the US sanctions and measures undertaken by an international task force are making it difficult for the country to confront an outbreak of coronavirus and import test kits to detect the infection.
Board Member at Iran's Association of Medical Equipment Importers Ramin Fallah said on Sunday that US sanctions as well as restrictions newly imposed on Iran by a global money laundering watchdog have made it increasingly difficult to access highly-needed test kits for coronavirus.
"Multiple international companies are ready to supply Iran with corona (virus) test kits but we can't send the money to them," Ramin Fallah told the ILNA news agency.
Under mounting pressure from Washington, the Paris-based Financial Action Task Force (FATF) decided on Friday to place Iran on its blacklist, making it more difficult for Iranian banks to settle payments with foreign counterparts.
Fallah said the FATF decision had caused more problems for the Iranian health sector as the country struggles to contain a coronavirus that has caused deaths for eight people while infecting dozens more across the country since earlier this week.
However, the businessman said that Iran would find a way to get round the new bans and have the test kits imported into the country in the upcoming two weeks.
The United States has repeatedly claimed that its unilateral sanctions on Iran, which began two years ago following Washington's withdrawal from a major nuclear deal with the country, have had no impact at all on Tehran's access to food and medicine.
However, recurrent reports have suggested that Iranian patients have suffered as a result of restrictions imposed by the US on export of certain medication into Iran.
Washington was even forced to issue a special authorization for the Swiss government last month to launch a financial channel with Iran that could settle payments related to humanitarian items.
The epicenter of the outbreak is the central city of Qom.
As a preventive measure, Iranian authorities have ordered a week-long closure of educational and cultural institutions across 14 provinces as of Sunday.
These provinces include Qom, Markazi, Gilan, Ardabil, Kermanshah, Qazvin, Zanjan, Mazandaran, Golestan, Hamadan, Alborz, Semnan, Kordestan and the capital, Tehran.
Spokesman for Tehran's Department of Education, Masoud Saghafi, said the decision was made to "prepare schools" which have to be disinfected and sanitized.
Tehran's Mayor Pirouz Hanachi said Sunday that all the city's public places, including the metro trains and buses, are being disinfected every night as part of attempts to contain the spread of the virus.
Head of Food and Drug Administration Mohammad Reza Shanehsaz also said that pharmacies will no longer be allowed to sell protective masks and that masks will be distributed among the population via government-run centers free of charge, with the priority given to virus-hit provinces.
Iran's Minister of Science, Research, and Technology Mansour Qolami called on all university deans to make every effort to maintain a calm atmosphere and adopt effective measures to prevent the virus from spreading.
More than 2,600 people have died of coronavirus since it began more than a month ago in the central Chinese city of Wuhan.
Countries like South Korea and Iran are reporting growing number of infections despite a fall in cases in China in recent days.
The coronavirus can cause various illnesses, ranging from the common cold to more severe diseases such as pneumonia. Common signs of the infection include respiratory symptoms, fever, coughing, shortness of breath, and other breathing difficulties.