Society_Culture
2020-February-28  15:34
Iran Condemns US Political Approach to Coronavirus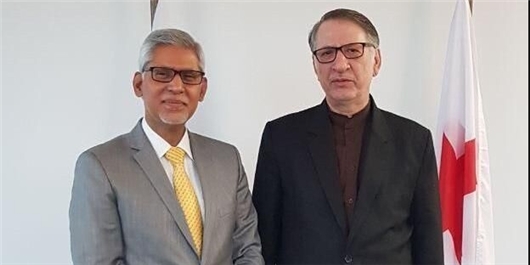 TEHRAN (FNA)- Deputy Foreign Minister for International and Legal Affairs Mohsen Baharvand, in a meeting with Secretary General of the International Federation of the Red Cross and Red Crescent Societies, lashed out at US for inhumanely politicizing the issue of coronavirus.
"The Islamic Republic of Iran has always tried to draw a distinction between humanitarian issues and political disputes. This is while the US administration, particularly its Secretary of State [Mike Pompeo], is seeking to politically use the humanitarian issue," said Baharvand in the Thursday meeting with Chapagain in Geneva where they held a meeting on the COVID-19.
The two sides discussed how the international federation can send medical equipment, including coronavirus test kits, to Iran that is battling with the disease.
"This epidemic doesn't recognize nationality and may become a global problem, so it needs to be globally tackled and contained," he added.
According to the latest data on Thursday noon, the number of confirmed Covid-19 cases in Iran has hit 245 while the death toll has raised to 26.
In a Persian tweet on Tuesday, Secretary of Iran's Supreme National Security Council (SNSC) Ali Shamkhani denounced the US government for trying to use coronavirus outbreak in the country as a means to pound psychological warfare on Tehran.
The US was using the new coronavirus as a strategy to complete its "maximum pressure" policy against Tehran, Shamkhani said.
Shamkhani said the US was putting psychological pressure on countries to shut their land and air routes to Iran, also describing propagating lies as Washington's new roadmap in its anti-Iran campaign.
Earlier in the day, US Secretary of State Mike Pompeo claimed that the United States was "deeply concerned" Iran may have covered up details about the coronavirus outbreak, and he called on world countries to "tell the truth" about the epidemic.
"The United States is deeply concerned by information indicating the Iranian regime may have suppressed vital details about the outbreak in that country," Pompeo told reporters, also criticizing Beijing for what he claimed as the censorship of media and medical professionals.
"All nations, including Iran, should tell the truth about the coronavirus and cooperate with international aid organizations," he added.
The virus first emerged in the central Chinese city of Wuhan. It causes cold- and flu-like symptoms, including cough and fever, and in more severe cases, shortness of breath. It may also worsen to pneumonia, which can be fatal.
In Iran, the virus showed up in the north-central city of Qom, where it has claimed its most victims. In all, the spread has taken 15 lives across the country and infected as many as 95 others.
Iranian medical officials have assured that Iran would, in the near future, rein in the outbreak, noting that the condition of most of the patients diagnosed with the virus had improved.
Spokesman of the Iranian Health Ministry Kianoush Jahanpour said on Thursday that the number of coronavirus infected people has increased to 245, adding that 26 patients have died so far.
He had said on Tuesday that over 700,000 sanitation packs, including equipment to prevent coronavirus-infection have been transferred to Qom province, the first place where the COVID 19-infection was diagnosed, and are being distributed among people.
As a preventive measure, Iranian authorities have ordered a week-long closure of educational and cultural institutions across over 10 provinces as of Thursday.
These provinces include Qom, Markazi, Gilan, Ardabil, Kermanshah, Qazvin, Zanjan, Mazandaran, Golestan, Hamadan, Alborz, Semnan, Kordestan and the capital, Tehran.
Spokesman for Tehran's Department of Education Masoud Saqafi said the decision was made to "prepare schools" which have to be disinfected and sanitized.
Tehran's Mayor Pirouz Hanachi said Sunday that all the city's public places, including the metro trains and buses, are being disinfected every night as part of attempts to contain the spread of the virus.
Head of Food and Drug Administration Mohammad Reza Shanehsaz also said that pharmacies will no longer be allowed to sell protective masks and that masks will be distributed among the population via government-run centers free of charge, with the priority given to virus-hit provinces.
Iran's Minister of Science, Research, and Technology Mansour Qolami called on all university deans to make every effort to maintain a calm atmosphere and adopt effective measures to prevent the virus from spreading.
The death toll from the novel coronavirus has risen to over 3,000 worldwide, with the vast majority of those in mainland China. The total number of global cases stands at over 81,000.
South Korea now has more than 1,000 coronavirus cases nationwide. Europe's biggest outbreak is in Italy, where 12 people have died and there are over 400 infections, with restrictions imposed on some municipalities.
The coronavirus can cause various illnesses, ranging from the common cold to more severe diseases such as pneumonia. Common signs of the infection include respiratory symptoms, fever, coughing, shortness of breath, and other breathing difficulties.