Widespread Outrage Intensifies in US over Acute Shortage of Coronavirus Testing Kits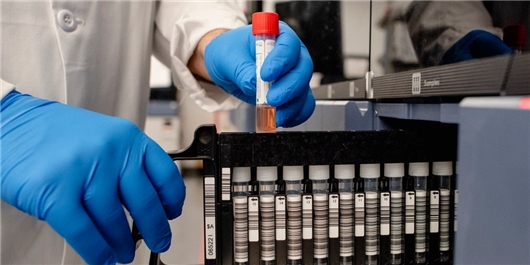 TEHRAN (FNA)- Lack of testing kits alongside the increasing number of deaths and infections in more than 30 states has enraged the public and healthcare workers as President Donald Trump continues to downsize the impacts of the deadly coronavirus epidemic among the nation.
Trump and his top officials have repeatedly promised that 1 million to 1.5 million tests would be sent around the country, even though labs have struggled to get the tests running amid a growing number of infections and deaths in several states as well as rising demand for tests.
Health officials have put Trump's reputation at stake by rising concern over White House's response to the spread of the fatal virus and severe shortage of test kits to identify sick people as new cases and deaths have intensified panic in the society.
A nurse in Northern Califonia who got sick after caring for a coronavirus patient, and then quarantined, criticized the Centers for Disease Control and Prevention (CDC) for delays in testing despite fever and doctor's order.
"The public county officer called me and verified my symptoms and agreed with testing. But the National CDC would not initiate testing. They said they would not test me because if I were wearing the recommended protective equipment, then I wouldn't have the coronavirus," she noted.
"What kind of science-based answer is that? What a ridiculous and uneducated response from the department that is in charge of our health in this country," she attacked the CDC.
Pretty stark statement from a Kaiser nurse in NorCal who got sick after caring for a coronavirus patient, criticizing CDC for delays in testing. https://t.co/GDlOH7TLzz pic.twitter.com/wleK6CRVeQ

— Matt Pearce 🦅 (@mattdpearce) March 5, 2020
Another medical official has revealed that the Los Angeles County Health Department has not allowed doctors to take test from anyone, even those who doctors believe are sick.
"Per the CDC today, physicians are supposedly allowed to test whomever we suspect, but LA country health department will not let us test anyone unless they have travel history. Myself and my colleagues have been working in the trenches in the ER, and we can't get people tested, People we are convinced have corona," the physician said in a message to the radio host.
"We are begging for the tests, and they consistently refuse unless the patients have known contact. We are sending these people back into the community. They won't even let us test people who we are admitting to the hospital unless they are in the ICU or with travel history. We are all so frustrated," she said in a message to her journalist friend to ask her to take the message out to the world in demand help.
Meanwhile in SoCal, text this morning from my ER physician friend in the LA trenches

(Replacing original w better de-identified image) pic.twitter.com/Kya21yruvD

— Elise Hu (@elisewho) March 5, 2020
Scores of American people have complained about how hard it is to get tested for coronavirus in the United States, with the outbreak apparently spreading across in the country, as new problems have emerged in the administration's effort to rush testing kits to health care providers and state and local political leaders expressed growing frustration about the situation in their constituencies.
Several people have been rushing to social media to share their stories about the US government's approach to diagnosis and fight against the deadly illness, as the issue has emerged as a key flaw in the Trump administration's response, which has frustrated doctors and state health officials who want to identify patients with coronavirus to isolate them and prevent the virus's spread across the country.
Meanwhile in SoCal, text this morning from my ER physician friend in the LA trenches

(Replacing original w better de-identified image) pic.twitter.com/Kya21yruvD

— Elise Hu (@elisewho) March 5, 2020
This is not just in CA. A colleague in town from NYC has a sick daughter,doc told her she fits all the criteria for coronavirus. Doc ordered a test, but was denied because she didn't travel. So he had to send her home. Too many of these stories,it's too late to stop the spread.

— JMillspiii (@jmillspaghetti) March 6, 2020
So I've gotten auto-emails from three different health care providers with corona virus tips. They all say, in some iteration, that if you've been to a hot zone recently and are exhibiting symptoms, contact your doctor and get tested. I have. Twice. Nobody's testing.

— Amanda Weaver (@AWeaverWrites) March 5, 2020
My uncle just tested positive for the coronavirus. He lives in Venice, CA.

I've not been in direct contact with him, so we are not at risk from him, but I want to relay how the health department has managed his case. #COVID

— Scott Bell (@iheartWallSt) March 5, 2020
Trump himself has made statements that conflict with experts, such as saying the virus being "very much under control in the USA", claiming that "anybody that needs a test, gets a test", which contradicting health officials as well as facts and figures.
In the United States, the number of deaths from the coronavirus increased to 21 with 550 infected cases, and health labs anxiously await diagnostic kits to expand testing for the fast-moving outbreak, which will allow for a fuller sense of the scale of the crisis.
Despite an order by the CDC on Wednesday to greatly expand criteria for who can be tested, many hospitals and state health authorities continued to limit tests to people at the highest risk for infection, adding to the confusion and frustration, especially in hot spots like California and Washington - as a sign of acute shortage of kit.
Sending contradictory signals about the US response to the coronavirus, Vice President Mike Pence, who is leading the administration's response to the crisis and previously vowed that "any American could be tested", has admitted kit's shortage and conceded that the country dosen't have "enough tests".
During a visit to the mask producer 3M in Minnesota on Thursday, Pence acknowledged the constraints of testing, stressing, "We don't have enough tests today to meet what we anticipate will be the demand going forward."
The remark was an acknowledgment that the US administration is still not prepared to meet an expected spike in demand in tests for coronavirus, which has spread across the country, and the latest in a confusing string of statements from Washington about the availability of the disease tests.
Some officials and health care providers are warning that the lack of testing capacity is not just a future problem, it also is hampering attempts to get a fix on the fatal disease right now.
Head of the National Institute of Allergy and Infectious Diseases Dr. Anthony Fauci stated that testing needs to be "much more proactive" to get a fuller picture of the coronavirus.
"For that reason, we're going to need millions and millions and millions of tests," Fauci said, adding, "That's what I feel and that's what many of my colleagues feel."
Yet doctors say they have been shunned even in those cases that they have approved for testing, warning that even patients with advanced symptoms have not gone under testing since diagnostic kits have not been supplied to them.
From Washington State to Florida to New York, doctors and patients are clamoring for tests that they say are in woefully short supply, and their frustration is mounting alongside the growing number of deaths and cases around the country.
In California, where thousands are being monitored for the virus, only 516 tests had been conducted by the state as of Thursday. Washington health officials have more cases than they can currently process. In New York, where cases have quadrupled this week, a New York City official pleaded for more test kits from the CDC, according to a report by The New York Times.
"The slow federal action on this matter has impeded our ability to beat back this epidemic," the official warned in a letter Friday.
Yet, US media accused the administration and the CDC of hiding the truth, disclosing that the kits may have contaminated many people. A top federal scientist sounded the alarm about what he feared was contamination in an Atlanta lab where the government made test kits for the coronavirus, sources familiar with the situation in Atlanta disclosed on Sunday, Axios reported.
The scandalous flaw could trigger the coronavirus-infection outbreak long feared in the United States.
A leaked document published in media has revealed that US hospitals were preparing for a major coronavirus outbreak with unprecedented scale. The document estimates a death toll of 480,000 from 96 million coronavirus infections in the US. In related news, top hospitals across the US were preparing for the coronavirus outbreak, according to a US healthcare executive.
American Hospital Association "Best Guess Epidemiology" for #codiv19 over next 2 months:

96,000,000 infections
4,800,000 hospitalizations
1,900,000 ICU admissions
480,000 deaths

vs flu in 2019:

35,500,000 infections
490,600 hospitalizations
49,000 ICU admissions
34,200 deaths pic.twitter.com/GDAADwmg4n

— Seth Bannon 👨‍🔬 (@sethbannon) March 7, 2020
State governments have asked thousands of residents to seclude themselves from the rest of the community to help contain the virus.
In New York alone, more than 2,500 people were instructed to self-quarantine as health officials scour for anyone who may have been exposed to the state's first coronavirus cases. In California, health officials announced that nearly 10,000 returning travelers were told to stay at home and monitor their health. Several states have also declared a state of emergency to fight against the coronavirus outbreak.
Two people have died in Florida, one in California and 18 in Washington State as hundreds of cases of infection have been reported around the country.
The coronavirus may have spread undetected in the US for weeks, according to a gene sequencing analysis. Researchers who studied cases in the US say that the virus may have been spreading there for weeks, suggesting the possibility that up to 1,500 people may have been infected, according to The Washington Post.
Trump has defended his administration's response to the coronavirus, and accused Democrats of trying to politicize the issue. But, lawmakers in both parties have expressed growing alarm that the threat of coronavirus in the United States is serious, and that the Trump administration is not doing enough to fight it. Critics are ripping into Trump for politicizing the situation.
On a global scale, the number of coronavirus cases has exceeded 115,000, with more than 100 countries reporting infections. In addition, nearly 3,800 people have already died from the disease.