2021-March-8 12:36
Society_Culture
2020-March-14  14:36
Iranian Athlete Advances to Gymnastics World Cup in Azerbaijan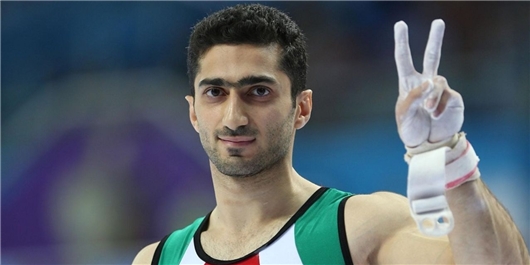 TEHRAN (FNA)- Iranian gymnast Saeed Reza Keikha staged a stunning performance in pommel horse category and advanced to the finals stage of Baku World Cup.
In pommel horse category, Keikha received 14,500 points and stood on the third place to win the ticket for the final round which is scheduled to be held on Sunday.
His rivals from China and Japan also stood on the first and second positions.
Iranian squad attended the event with two athletes.
Gymnasts will also book ticket for Olympic Games.
Last month, Keikha claimed the silver medal at the International Gymnastics Federation (FIG) World Cup in Melbourne.
Keikha qualified for the pommel horse discipline and bagged a silver with a score of 15.033.
"I want to thanks my wife for her support. I am very happy for winning the silver medal because it can be a step towards my qualification for the Tokyo Olympics," Keikha said. "I had a difficult task in the final because my opponents were very strong and I am happy because of winning the medal," Keikha said.
"I am a step closer to the Olympics, however it depends on the performance of my rivals. I have Baku and Doha World Cups ahead of me in March and I need to have good performance in two events."
In November 2018, on the first day of the Gymnastics World Cup in Cottbus, Germany, Keikha was finalist in Pommel Horse with a score of 266/14 among 44 athletes.
As he qualified for the World Cup final, Keikha managed to record the sixth move in his name and Iran.
The 31 year old athlete from Iran's Southern city of Shiraz has a total of five elements on pommel horse named after him by the International Gymnastics Federation. He became the first Iranian gymnast to have an element named after him in the FIG Code of Points.
Keikha performed his first move at the 2017 Baku World Cup to be the first Iranian gymnast to have an element named after him in the Men's Code of Points.