2021-May-9 09:34
Number of Confirmed Coronavirus Cases in Germany Nears 80,000, Death Toll Tops 1,000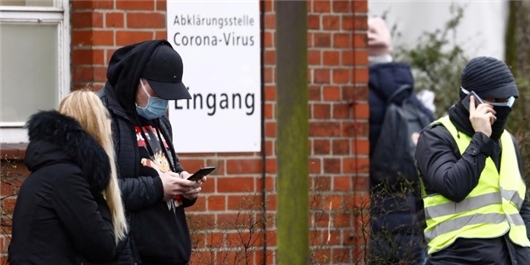 TEHRAN (FNA)- The number of coronavirus infections in Germany has risen to 79,696, and 1,017 have died so far, according to statistics from the Robert Koch Institute (RKI) for infectious diseases.
COVID-19 cases rose 6,174 from the previous day, as the death toll climbed 145, the tally showed, Sputnik reported.
According to the latest data, the most cases have been recorded in Bavaria (18,496), North Rhine-Westphalia (15,427) and Baden-Wurttemberg (14,662),while Berlin has 2,970 cases.
Germany is the third most affected country in Europe after Italy and Spain in terms of the number of COVID-19 patients.
The total number of deaths attributed to the coronavirus pandemic has soared past 50,000 globally as cases inch toward the 1 million mark, with Italy and Spain leading other nations in mortality, according to RT.
The coronavirus pandemic has killed more than 50,000 people worldwide as of Thursday, according to Johns Hopkins University's Coronavirus Resource Center. Italy leads the world in virus-related mortality, with 13,915 deaths, while Spain has also suffered disproportionately, counting 10,003 deaths.