2021-May-9 08:49
UK Reports Biggest Daily Jump in Coronavirus Death, Number of Victims Top 4,300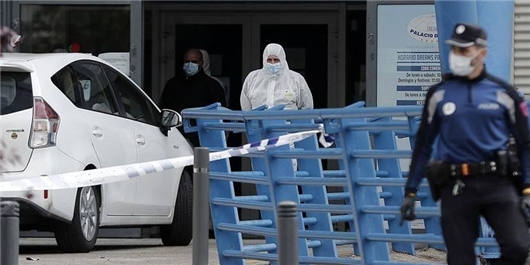 TEHRAN (FNA)- The United Kingdom's death toll from the COVID-19 rose by 20% to 4,313, the health ministry announced on Saturday, as more than 41,900 tested positive for the deadly disease.
The UK's coronavirus death toll has risen to 4,313 in the deadliest day since the coronavirus outbreak began. Department of Health and Social Care figures showed that 708 people have died in UK hospitals since Thursday, World News reported.
The number testing positive for COVID-19 has risen to 41,903, as of Saturday, after 183,190 have been tested.
Health Secretary Matt Hancock warned on Friday that the peak of the United Kingdom's coronavirus outbreak will be slightly sooner than previously thought and will come in the next few weeks.
British government scientists say that the United Kingdom would be doing well if it kept the coronavirus death toll below 20,000.
The British government's worst case scenario envisages a coronavirus death toll of 50,000 if self-isolation is not fully adhered to, but the United Kingdom is not right now on course for a toll of that scale, a source familiar with the government's emergency discussions told Reuters.
The UK has gone into lockdown as it battles the pandemic, with people told to stay at home unless it is deemed essential, for example to get groceries or medicine. All non-essential businesses have been told to shut their doors, while schools have also been closed.
Prime Minister Boris Johnson's spokesman has stated that social distancing measures will remain in place in the UK until after the Easter holiday, and that even harsher steps could be implemented if the situation continues to deteriorate.