World
2020-April-12  16:16
Dissident Source: Turkey Attempting to Merge Terrorist Groups in Syria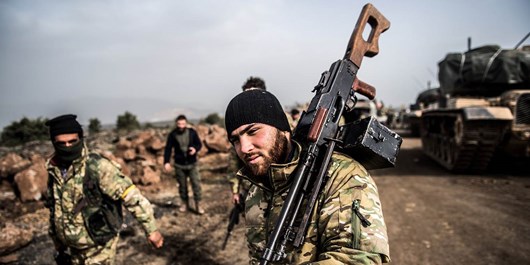 TEHRAN (FNA)- Dissident sources in Syria revealed Turkey's attempts to revive terrorist groups in Idlib to revive their operations, specially Tahrir al-Sham (the Levant Liberation Board or the Al-Nusra Front).
A commander of al-Jibhat al-Wataniyeh Letahrir terrorist group, affiliated to Turkey, was quoted by the Arabic-language dissident Enab al-Baladi website as saying that Turkey has withdrawn a number of militants from its controlled areas in Syria and deployed them at its military points.
He added that Ankara aims to form an army in the region after dissolving different grouplets, noting that the measure is useful to Turkey as it decreases attacks against the country due to the rebellious behavior of the terrorist groups.
Meantime, another source told the website that Turkey has two plans to reorganize the terrorists; first, training and deploying every 300 militants at one of its military points; and second, merging Tahrir al-Sham into a new group.
In relevant remarks on Saturday, a prominent Turkmen analyst warned of the increased activities of extremist groups among labor immigrants in Turkey.
"Turkey has turned into a base to transfer new militants to Syria and Iraq, including new members who have been recruited from labor immigrants of the Commonwealth countries," Maqsad Safar Moradov told FNA.
He added that Arab missionaries arrived in Turkey in mid March with over $2mln to recruit new forces and they have started direct talks with the leaders of terrorist organizations.
Moradov warned that based on unofficial reports, a large number of Turkmen citizens, up to one million people, are now in Turkey and they have lost their jobs due to the coronavirus epidemic, adding that they are candid targets for recruitment attempts by the terrorist organizations.