Politics
2020-April-19  17:10
Iran Civil Defense Chief Suspicious of US Level 4 Labs in Region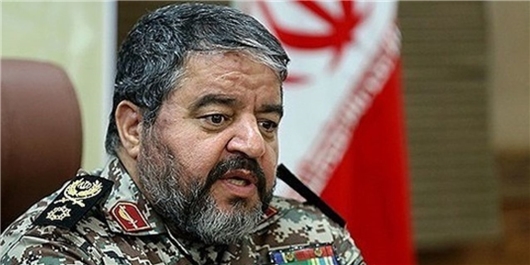 TEHRAN (FNA)- Head of Iran's Civil Defense Organization Brigadier General Gholamreza Jalali questioned the raison detre of 25 US-sponsored level 4 laboratories in Asia, saying Washington is required to explain its objectives to exonerate itself of accusations.
"25 US level 4 laboratories are conducting secret operation outside any supervision by international bodies near Iran, Russia and China within the framework of a biological cooperation plan. These laboratories are capable of manipulating viruses to turn them into a biological weapon," General Jalali said in an interview with the state TV.
The level 4 laboratories are used for diagnostic work and research on easily transmitted pathogens which can cause fatal disease. These include a number of viruses known to cause viral hemorrhagic fever such as Marburg virus, Ebola virus, Lassa virus, and Crimean-Congo hemorrhagic fever.
General Jalali warned of the great dangers posed to the countries which host the US level 4 laboratories after the COVID-19 virus outbreak, and urged the international community to devise a monitoring mechanism to supervise them.
He described the US as a prime suspect behind the development of coronavirus, implying that the US has the means and incentives for the biological engineering of the deadly virus.
In relevant remarks in March, General Jalali had said that the outcomes of the coronavirus epidemics and the western states' media propaganda suggested that COVID-19 virus could be a biological attack against China and Iran.
"A study of the consequences of the virus in terms of tolls or the extent of the epidemic and the type of media propaganda over this issue that is aimed at increasing fear and panic among people strengthens the speculations that a biological attack has been launched against China and Iran with economic goals," General Jalali told FNA.
He added that proofs and analysis and certain news reports indicate that the origin of coronavirus is a hostile state but proving this assumption requires laboratorial investigations and comparing the genome of the primary virus and the new genomes.
The Iranian health ministry said on Saturday that 1,374 new cases of coronavirus infection were identified in the country in the past 24 hours, voicing pleasure that nearly 70% of patients had recovered.
"1,374 more patients infected with COVID-19 virus have been identified in the country since yesterday based on confirmed diagnosis criteria," Health Ministry Spokesman Kianoush Jahanpour said on Saturday.
He said that the total number of coronavirus patients in Iran has increased to 80,868, adding that 5,031 people have lost their lives due to infection to the virus, including 73 in the past 24 hours.
Jahanpour, meantime, said that 55,987 (nearly 70% of) infected people have been treated and dismissed from hospitals, expressing concern that 3,513 patients infected with COVID-19 virus are in critical conditions.
He also noted that 330,137 coronavirus diagnosis tests have been carried out in the country so far.