Politics
2020-May-6  15:12
Envoy: Iran First in Cooperating with IAEA Inspectors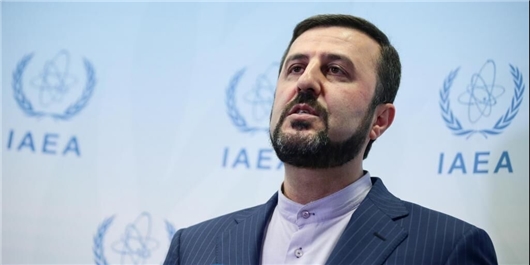 TEHRAN (FNA)- Iranian Ambassador and Permanent Representative to the Vienna-based international organizations Kazzem Gharibabdi said his country tops the list of the member states cooperating with the International Atomic Energy Organization (IAEA) as it has accepted over 90 percent of inspections in its own group.
Kazem Gharibabadi said Iran is among 62 countries that execute additional protocols and safeguards of agreements but still lack the IAEA's broader aggregation of the articles and activities which have not yet been declared.
"Based on the reports about implementing IAEA safeguards in 2019, out of 466 inspections among member states, 432 ones were related to Iran which is equal to 92 percent of total inspections in its group, and 20 percent of them in the world," he added.
He noted that from 45 additional accesses among a 62-member group in 2019, 33 accesses have been made in Iran which is equal to 73 percent of the total accesses in this group and 24 percent total in the world.
Referring to Iran's full transparency in its peaceful nuclear program and that a significant volume of the agency's inspections is carried out under the influence of the Joint Comprehensive Plan of Action (JCPOA), Gharibabadi said thanks to unfavorable conditions of the JCPOA, Europe's lack of commitment and the US' plans to carry out other destructive measures in the UNSC and out of it, cooperation is not the only option for Iran.
Iran has a range of options like establishing cooperation, returning to safeguards commitments, and revising these commitments that it will adopt one of them based on other parties' acts, he reiterated.
In relevant remarks on April 3, Kazzem Gharibabdi blasted the US officials for their double-standards vis-a-vis the nuclear deal signed between Tehran and the major world powers in 2015, and said Washington is not a part of the Joint Comprehensive Plan of Action anymore after it withdrew from the JCPOA on May 8, 2018.
"The Paragraph 10 of the UN Security Council Resolution 2231, which endorses the nuclear deal -- officially known as the Joint Comprehensive Plan of Action -- is a reflection of Paragraph 1.2 Annex IV of the agreement which "enumerates JCPOA participants," Gharibabadi tweeted on Tuesday.
He added that the US president issued a presidential memorandum on May 8, 2018 announcing the end to Washington's participation in the JCPOA as Donald Trump said then "I am today making good on my pledge to end the participation of the United States in the JCPOA".
Gharibabadi said that the US attempts to establish itself as "JCPOA participant have no legal grounds".