2021-June-20 17:46
Security Forces Discover 6 ISIL Terrorists' Hideouts in Eastern Iraq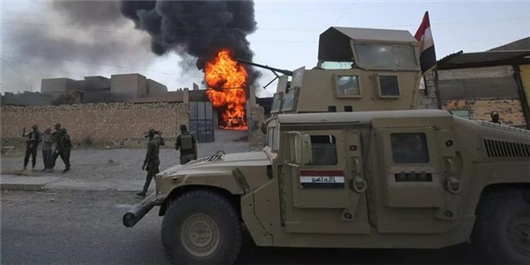 TEHRAN (FNA)- Iraqi security forces in a successful operation against the ISIL in Diyali province on Tuesday discovered and annihilated 6 bases of the terrorists and killed 4 of them.
The Arabic-language al-Akhbariyeh news website quoted a security source in Eastern Iraq as saying that the security and intelligence forces in cooperation with counterterrorism units in Diyali province found and destroyed 6 hideouts of the ISIL terrorists in Wadi al-Thalab region and killed four militants.
In another development on Tuesday, the brigade 23 of Hashd al-Shaabi (Iraqi popular forces) engaged in clashes with the ISIL terrorists in al-Azim region, killing a number of them near the village of Albu Mare'i.
Earlier this month, a senior commander of Hashd al-Shaabi said the ISIL terrorist group planned to repeat its 2014 Mosul occupation scenario in a new move in several Iraqi provinces, but has failed.
"The ISIL planned to implement the plot through recent attacks in Salahuddin, Diyali and other provinces by using modern weapons and logistical support," Sadiq al-Husseini told the Arabic-language al-Ma'aloumeh news website.
He added that the type of attacks and its targets show that the terrorist group intended to repeat the Mosul scenario in other Iraqi provinces, but failed.
Al-Husseini said that the ISIL was surprised by the rapid reaction shown by Hashd al-Shaabi and other Iraqi security forces and failed to implement its plots.
Another commander of Hashd al-Shaabi had warned early in May that the ISIL terrorist group has been reinvigorated and activated again in a number of provinces in Iraq.
"The Americans and the ISIL terrorists are repeating the same scenario they played during the collapse of Mosul in 2014, in Babel, Salahuddin and Diyali provinces and they are attempting to distort security and stir instability in those regions," Qasim al-Ma'amouri, the commander of Hashd al-Shaabi's Division 26, was quoted by al-Ma'aloumeh as saying.
"We have intelligence showing that the terrorist group has resumed its activities in several Iraqi provinces, including Babel, with the US help," he added.