2021-February-28 22:36
Politics
2020-May-22  11:07
Zarif: US Israel's Partner in Every Crime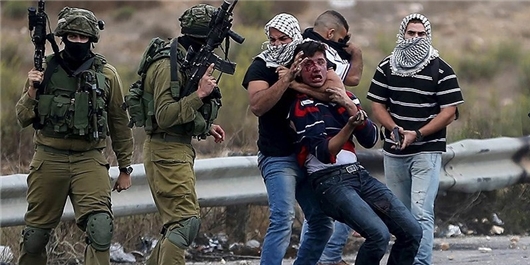 TEHRAN (FNA)- Iranian Foreign Minister Mohammad Javad Zarif in a message on Thursday slammed the US officials for partnership in all Israeli crimes, saying they should stand accountable for every act of the Zionist regime.
"'Bibi-Firsters'—whether in Foggy Bottom or 1600 Penn—are complicit in all Israeli crimes against humanity," Zarif tweeted.
"They will have to account for EVERY aggression—from the usurping of Palestinian land & apartheid under the 'Deal of Century' to enabling murder of children with US weapons," he added.
In relevant remarks on Wednesday, Iranian Foreign Minister Mohammad Javad Zarif underlined that despite all attempts by the US, Israel and their regional allies, the Palestinian issue will never be forgotten.
Although some Arab countries had coordinated themselves in the past with the Camp David Accord and recently with the policies of Saudi regime, with Israel and against the Palestinian cause, the issue of Palestine is not the issue that will be fallen into oblivion by these methods, Zarif said in a TV program on Wednesday night on the occasion of the International Quds Day (May22).
He described the issue of Palestine as a priority of Iran's foreign policy both for government and people of the country since the time of the late Imam Khomeini up to the present time, and stressed, "Given its concern for the Islamic world, the Islamic Revolution of Iran should stand up for the inalienable and legitimate rights of Palestinian people."
"The terrorist and fake regime of Israel has violated the most fundamental and basic rights of Palestinian people," Zarif said.
The International Quds Day is an annual event opposing Israel's occupation of Beitul-Muqaddas. Anti-Zionist rallies and demonstrations are held on the last Friday of Ramadan in Muslim and Arab countries around the world, specially in Iran, as well as a large number of non-Muslim states.
The International Quds Day was started by the late Founder of the Islamic Republic, Imam Khomeini, in 1979 as a way of expressing solidarity with the Palestinians and underscoring importance of the holy Quds to Muslims.
Due to the outbreak of coronavirus in Iran, the International Quds Day will be commemorated differently without holding gatherings and rallies.