2021-May-12 06:33
Politics
2020-May-22  11:44
FM Spokesman Blasts Europe's Servility to Zionist Lobby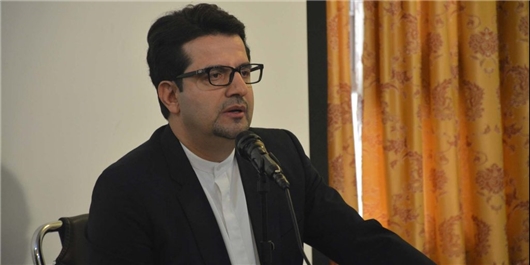 TEHRAN (FNA)- Iranian Foreign Ministry Spokesman Seyed Abbas Mousavi said it is astounding to see how subservient the Europeans are before the Zionist lobby.
"Stunning is Europe's captivity to Zionist lobby," Mousavi tweeted on Friday.
"Europe has historically failed to stop Zionist regime's violation of Int'l law (i.e. Palestinians' suppression, lands' annexation) committed in the name of Israel security," he added.
"Why afraid of 'referendum' in Palestine as a lasting solution?" he noted.
In relevant criticism on Thursday, Iranian Foreign Minister Mohammad Javad Zarif said it is not the Palestinian nation who has to pay for the West's crimes.
"Disgusting that those whose civilization found a "Final Solution" in gas chambers attack those who seek a real solution at the ballot box, through a REFERENDUM. Why are US and West so afraid of democracy?" Zarif tweeted on Thursday.
"Palestinians should not have to pay for your crimes, or for your guilt," he added.
In an interview with the Islamic Radios and Televisions Union on Thursday, he also said that the issue of Palestine is the most important and the pivotal issue of the Islamic world.
He added that since the issues and concerns of the Islamic world are of the highest importance for the Islamic Revolution, Iran has been standing beside the Palestinian people supporting their rightful demands.
The International Quds Day is an annual event opposing Israel's occupation of Beitul-Muqaddas. Anti-Zionist rallies and demonstrations are held on the last Friday of Ramadan in Muslim and Arab countries around the world, specially in Iran, as well as a large number of non-Muslim states.
The International Quds Day was started by the late Founder of the Islamic Republic, Imam Khomeini, in 1979 as a way of expressing solidarity with the Palestinians and underscoring importance of the holy Quds to Muslims.
Due to the outbreak of coronavirus in Iran, the International Quds Day will be commemorated differently without holding gatherings and rallies.