Politics
2020-May-28  12:18
IRGC Commander: Iran Not to Bow to Enemies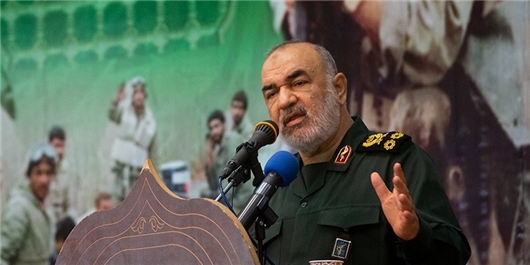 TEHRAN (FNA)- Commander of the Islamic Revolution Guards Corps (IRGC) Major General Hossein Salami underlined Iran's eye-catching progress in production of different military equipment, and said the country will never surrender to enemies.
General Salami made the remarks, addressing a ceremony to deliver over 100 speed boats to the IRGC Navy in the Persian Gulf on Thursday.
He hailed Iran's significant progress in the defense sector, warning that the Islamic Republic will give crushing response to enemies if threatened.
"The Islamic Republic has the determination. We will not bow to enemies. We will not retreat. Progress is the nature of our work. Defense is our logic in war but not in the sense of passivity against the enemy. Our operations and tactics are offensive and we have shown it in the battlefield," General Salami said.
The IRGC commander said that a key portion of Iran's maritime power is still "unknown" to others.
"The most important and dangerous part of this power is unknown. Our enemies will see this power the day when they pursue an evil intention against this land. On that day, they will get to see the real firepower of our forces at the sea and in the sky, and the battlefield will turn into a hell for the enemies of Iran and Islam," he warned.
The IRGC Navy was equipped with over 100 home-made missile-launching speed boats on Thursday.
During a ceremony, participated by several high-ranking military officials, including General Salami, IRGC Navy Commander Rear Admiral Alireza Tangsiri, and Defense Minister Brigadier General Amir Hatami, 112 new-generation offensive speed boats of different classes were unveiled and delivered to the IRGC naval forces in the Persian Gulf.
Enjoying hydrodynamic functional features, the boats are capable of sailing at a high speed, with a low radar cross-section (RCS) and a high level of offensive power.