Politics
2020-May-28  13:45
DM: IRGC Speed Boats Tighten Security Belt in Persian Gulf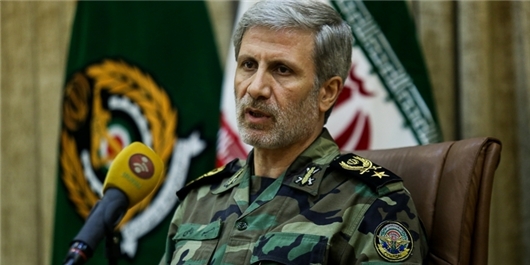 TEHRAN (FNA)- Iranian Defense Minister Brigadier General Amir Hatami underlined that equipment of the Islamic Revolution Guards Corps (IRGC) Navy with more speed boats is meant to strengthen security in the Persian Gulf and the Strait of Hormuz.
General Hatami made the remarks, addressing a ceremony to deliver over 100 speed boats to the IRGC Navy in the Persian Gulf on Thursday.
"Today, with the delivery of the domestically-built offensive boats to IRGC's naval fleet, the security belt of the Persian Gulf, specially the strategic Strait of Hormuz, will be more tightened than before," he said.
General Hatami noted that "over 80% of the equipment, including telecommunications, radars, and control and monitoring systems, used in the vessels delivered to the IRGC today, is domestically manufactured, and all their weapons systems have been localized under the supervision of the Defense Ministry".
Referring to the instructions of Leader of Islamic Revolution Ayatollah Seyed Ali Khamenei on "production surge" in the current year, the Defense Minister, said, "Certainly, following the orders of the Leader over boosting the power and capabilities of the Islamic Republic's navy, we will increase the depth of our presence in free waters through the design and manufacture of different surface and sub-surface vessels."
He assured that the country's defense capabilities will also observe a considerable leap on the ground, see and air as well as the electronics and aerospace this year.
General Hatami referred to the delivery of Damavand destroyer, Separ (Shield) warship, and light and semi-heavy submarines, including Ghadir and Fateh to the armed forces, as well as other patrols, search and rescue vessels to the police as measures of the Ministry of Defense in equipping the Armed Forces fleet in the Persian Gulf and the Sea of Oman.
The IRGC Navy was equipped with over 100 home-made missile-launching speed boats on Thursday.
During a ceremony, participated by several high-ranking military officials, including IRGC Commander Major General Hossein Salami, IRGC Navy Commander Rear Admiral Alireza Tangsiri, and General Hatami, 112 new-generation offensive speed boats of different classes were unveiled and delivered to the IRGC naval forces in the Persian Gulf.
Enjoying hydrodynamic functional features, the boats are capable of sailing at a high speed, with a low radar cross-section (RCS) and a high level of offensive power.