Politics
2020-May-29  14:11
Three Border Guards Martyred in Anti-Terror Clashes in Northwestern Iran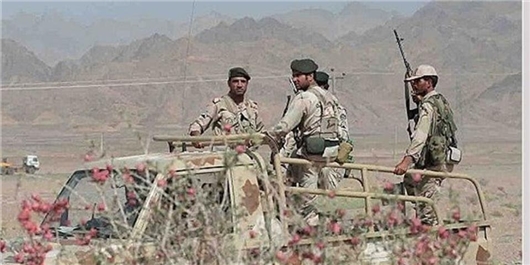 TEHRAN (FNA)- Three Iranian border guards were killed during clashes with a terrorist outfit in West Azarbaijan province, Northwest of the country.
The guards lost their lives on Friday in an armed conflict that occurred at a border post near the city of Sardasht, located some 730 kilometers West of Tehran.
A number of armed terrorists were also killed in the gunfight.
In a relevant event on May 7, Iranian security forces dismantled two terrorist groups at the bordering areas of the two Western provinces of West Azarbaijan and Kurdistan.
The intelligence ministry announced in a statement on May 6 that its forces in West Azarbaijan and Kurdistan provinces have managed to monitor and eliminate two terrorist groups, affiliated with separatist groups, that had entered the country from neighboring countries to carry out acts of terrorism.
During the effective intelligence operation, 16 terrorists were arrested and their two AK47 weapons and a bunch of grenades and live ammunition were seized, it added.
The ringleader of this terrorist group is residing in Europe and being supported by a certain Arab country, the statement said.
Some of the arrested terrorists were involved in the assassination and martyrdom of innocent people and the extortion of producers and traders in the west of the country, it said, adding that one of the terrorist teams have assassinated the child of an Islamic Revolution fan in a cruel manner.
In a relevant development earlier in that week, the Islamic Revolution Guards Corps (IRGC) launched a successful operation in Kurdistan province, West of Iran, and killed a number of terrorists who were planning to infiltrate the country from the region.
"Several terrorists were killed during clashes in Divandarreh County on May 5," a statement by the IRGC's Hamzeh Seyed al-Shohada Base said.
The statement added that three IRGC members, including Colonel Shakiba Salimi, were martyred in the clashes.
The statement praised Colonel Salimi for spending his life in maintenance of security in West of the country and also making utmost efforts to fight the coronavirus disease since the outbreak of the virus in the country.