2021-March-8 13:23
Society_Culture
2020-June-1  14:29
Governor: Fire Controlled in Southwestern Iran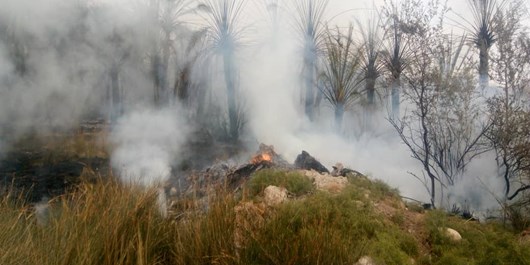 TEHRAN (FNA)- Governor of Kohgilouyeh and Boyer Ahmad province Alireza Atabak announced on Monday that the wildfires in Khaeiz Protected Area in Southwestern Iran are now under full control.
"The fire was controlled on Monday morning, yet we will keep all our forces in the region to make sure of everything," Atabak told FNA on Monday.
He added that the wildfires had started on Thursday and were completely extinguished on Monday morning, noting that groups of 300 to 400 fire fighters and relief workers had been sent to damaged and inflicted areas on several missions to help control the fire.
Atabak ensured that wildlife has not received a significant damage in the region.
Firefighting operations were carried out in the heights of the Protected Area using six Army Air Force helicopters, and with the participation of the Islamic Revolution Guards Corps (IRGC) forces, the Red Crescent, and the Gachsaran Oil Company.
Khaeiz Protected Area is a more than 33,000-hectare plateau, ​​located in the provinces of Khuzestan and Kohgiluyeh and Boyer-Ahmad, Southwestern Iran.
Reports say part of the fire has been the result of arson, however, high winds in the region have quickly spread the fires.