Economy
2020-June-6  12:35
Iranian Trucks Enter Turkey after 3 Months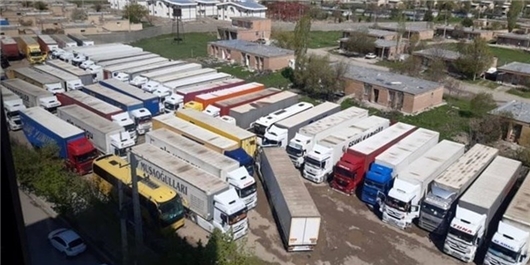 TEHRAN (FNA)- Some 150 Iranian trucks entered neighboring Turkey after commerce had been halted between the two countries for nearly three months due to the spread of the coronavirus, a customs spokesperson said on Friday.
Spokesman for the Islamic Republic of Iran Customs Administration [IRICA] Seyed Rouhollah Latifi said that after reopening the Turkish borders, 150 Iranian trucks entered the country in the first day when Tehran and Ankara resumed trade activities amid COVID-19 outbreak.
Latifi said that these trucks discharged their cargoes in Turkey through the three borders of Bazargan, Sero and Razi.
35 Turkish trucks, carrying goods, entered Iran, too, he added.
In relevant remarks on June 4, Iranian President's Chief of Staff Mahmoud Vaezi expressed pleasure in the reopening of Bazargan border crossing with Turkey, saying that it will help further expansion of trade relations.
Reopening of Bazargan and Habur borders by the Turkish trade minister will develop trade relations between two countries, Vaezi said.
He voiced satisfaction that the outbreak of coronavirus has not been able to stop the expansion of Iran-Turkey relations, and said, "I hope the trade relations between the two countries will be further developed by strictly implementing health protocols."
"Reopening Bazargan and Habur borders by the Turkish Trade Minister will develop trade relations between two countries," Vaezi said, adding, "In addition to the continuation of exchanging goods through railway, road transportation will also play a significant role in boosting trade interactions."
Turkish Trade Minister Ruhsar Pekcan announced on Wednesday that Bazargan and Habur borders will be reopened soon.
Speaking in a TV program, Pekcan appreciated the Iranian government's cooperation with regard to designing and implementing health protocols which resulted in the reopening of trade borders.