2021-May-16 16:38
Society_Culture
2020-June-14  14:40
Police, IRGC Seize Huge Drug Hauls in Southern Iran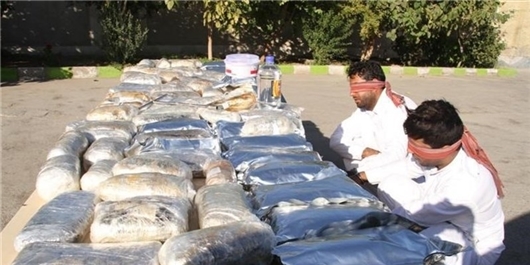 TEHRAN (FNA)- Iranian border police detected a depot of narcotics in a village in the Southeastern province of Sistan and Balouchestan and captured over 2 tons of illicit drugs.
Our forces monitored the activities of a drug smuggling gang at Rootak border region of Khash County and found out that the smugglers had plans to transfer the narcotics into the country, said Commander of Iran's Border Guards Brigadier-General Ahmad Ali Goudarzi.
Goudarzi noted that the during the armed conflict of Police Force of Saravan region with the smugglers, 2,320 kilograms of opium and a number of rifles and ammunition were captured from the gang.
In a similar operation, the IRGC Fifth Naval Zone in the Persian Gulf said that the naval forces seized 888 kg of illicit drugs in the Iranian waters of Persian Gulf.
Brigadier General Ali Ozmayee said on Saturday that 840 kg of opium and 48 kg of heroin were confiscated by IRGC Naval Force following comprehensive intelligence operations in the Persian Gulf.
It was also announced on Friday that anti-narcotics police of Sistan and Balouchestan province, disbanded a drug-trafficking gang, and seized over 2 tons of illicit drugs along the gang-leader in the weekend
More than 2 tons of narcotics were confiscated by the anti-narcotics forces in Khash and Saravan county of Sistan and Balouchestan province, Police Chief of the region, Brigadier General Mohammad Ghanbari said and added that the drug haul was busted in border regions.
During the clash, the police arrested the head of the drug-trafficking band and confiscated 2.294 tons of narcotics along with an AK47 and ammunition, he noted.
The consignment comprised of 2,222 kg of opium and 72 kg of hashish, Ghanbari said.
On May 22, Iranian Ambassador and Permanent Representative to Vienna-Based International Organizations Kazzem Qaribabadi said despite the troubles and obstacles posed by the US sanctions against Iran, his nation continues to lead the fight against drug smuggling in the world.
Qaribabadi made the remarks in a letter to Executive Director of the United Nations Office on Drugs and Crime (UNODC) Ghada Fathi Waly.
He called on the UN and its member states to practice their responsibility to recognize and support Iran's activities in this fight.
The Iranian envoy noted that seizure of illicit drugs in Iran topped by 20% last year in comparison to the previous year.