Politics
2020-June-19  15:45
Iran Unveils Naval Version of 3rd of Khordad Air Defense Shield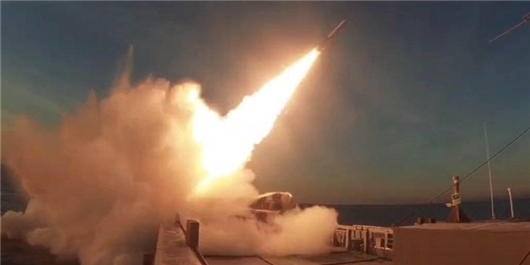 TEHRAN (FNA)- A year after a US intruding drone was shot down over the Southern coasts of Iran by the Islamic Revolution Guards Corps (IRGC) Aerospace Force, new images of the naval version of the missile system were released for the first time.
The system has been stationed on the IRGC Shahid Siavoshi frigate and is capable of target lock and missile fire with the frigate on the move.
Third of Khordad missile system, that has been 100% mass produced by the experts of the IRGC Aerospace Force, is the same system which shot down on June 20, 2019 the highly advanced MQ-4C Triton drone of the American terrorists in Iran's territorial waters South of the country near Kouh-e Mobarak region at an altitude of 50 thousand feet.
This system was unveiled for the first time during the visit of Supreme Leader of the Islamic Revolution Ayatollah Seyed Ali Khamenei. It is capable of engaging and intercepting 4 active targets at each round and has been assigned for countering tactical and strategic aircraft, helicopters, cruise missiles and drones and can also shoot down its targets under electronic warfare conditions.
Last year, IRGC Aerospace Force Commander Brigadier General Amir Ali Hajizadeh had informed of designing and making a missile system that, unlike the existing systems in the world, can trace, lock, engage and intercept targets on a moving platform.
The Third of Khordad Air Defense Shield fires Taer-2 Missiles which have also been developed and mass produced at the IRGC Aerospace Force. Third of Khordad defense shield is also capable of launching Sayyad-2 missiles with a range of 75 kilometers.
These images have for the first time shown the production phases and production line of the system at the industrial sections of the IRGC Aerospace in which there are young men and women working to this end.
Shahid Siavoshi frigate of the IRGC Naval Force, which carries the Third of Khordad missile system, has been domestically made and it is the same frigate which had an encounter with the USS Vella Gulf warship of the US Fifth Fleet on March 7, 2020 while patrolling the Persian Gulf and forced it to move away.
On June 20 last year, the Islamic Revolution Guards Corps (IRGC) Aerospace Force announced that it used the Iran-made short-range and mid-altitude 'Third of Khordad' missile defense shield to bring down the US spy drone over the country's Southern coasts, releasing videos that showed the flight path of the plane as well as the moment it was brought down.
The incident marked the first direct Iranian attack on US assets and came amid heightened tensions between Washington and Tehran. The downing of the $220mln drone was also the latest in an escalating series of incidents in the Persian Gulf since mid-May, including suspected attacks on six tankers that the US blamed on Iran. Tehran has denied any involvement in the incidents.