Politics
2020-June-27  15:01
IRGC Commander: Arms Embargo Not to Affect Iran's Defense Power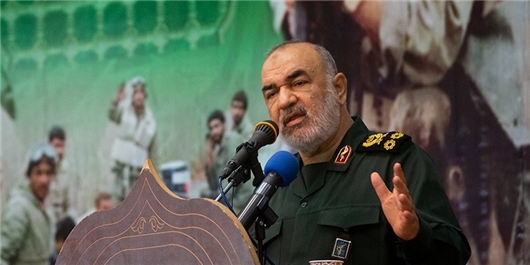 TEHRAN (FNA)- Commander of the Islamic Revolution Guards Corps (IRGC) Major General Hossein Salami underlined that arms embargos will leave no impact on Iran's defense power but rather persuade Iranian experts to produce home-made military equipment and weapons.
"We are under a global arms embargo; arms embargo on one hand and threats by the US and its allies on the other hand. The arms sanctions have created an opportunity for our scientists to build and manufacture defensive needs by reliance on domestic power," General Salami told reporters on Saturday.
He stressed that extension of the arms embargo against Iran "will not affect our defense power and we will witness the unveiling of surprising systems (by the IRGC) in the near future".
General Salami also said that the IRGC Ground Force does not need imports of any military systems from foreign states.
The arms embargo on Iran restricts Iran's ability to obtain and transfer weapons and expires in October. The expiration is part of the 2015 Iran nuclear deal that the United States walked away from in 2018.
On Wednesday, US Ambassador to the United Nations Kelly Craft and the US envoy for Iran, Brian Hook, briefed the UN Security Council on a proposal to extend the embargo.
Iran's Ambassador and Permanent Representative to the United Nations Majid Takht Ravanchi called on the UN Security Council member-states not to fall in Washington's trap by extending arms embargo on Iran.
"The US resolution proposing to extend Iran's arms embargo is in violation of the UNSC Resolution 2231, and it would be a devastating mistake for the Security Council," Takht Ravanchi said on Thursday.
Takht Ravanchi made the remarks at a news conference focusing on the Americans' claim to their participation in Resolution 2231 and the possibility of using the snapback mechanism to restore the relevant sanctions.
"The provisions of the draft resolution of the United States to extend the arms embargo are in conflict with the UN Security Council Resolution 2231, and should be rejected," he added.
Takht Ravanchi recalled that Russia and China, as two members with veto power of the UNSC, have expressed their full support for the JCPOA, the full implementation of this agreement and Resolution 2231, and said, "In fact, the US act will have implications for international law, as well as future cooperation with the UNSC."
"The UNSC must be aware that it is violating the resolution it has adopted and it would be a devastating mistake for the council to violate its resolution," he added.