2021-May-12 07:16
Politics
2020-June-28  14:24
Official: Human Rights Practically Taught to Europeans by Iran's Exports of Anti-Coronavirus Equipment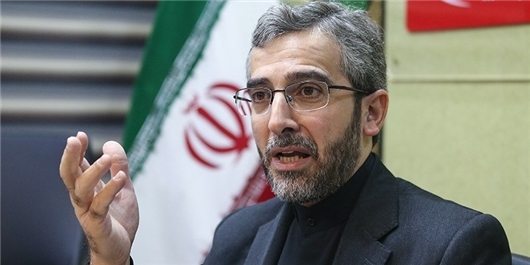 TEHRAN (FNA)- Iran's Deputy Judiciary Chief for International and Human Rights Affairs Ali Baqeri underlined the country's capability to produce and export anti-coronavirus equipment despite sanctions, saying that Tehran taught the Europeans some human rights lessons by sending such equipment to them.
"Our country has been under sanctions for years and the sanctions have sorely increased in the past two years and the area of sanctions have extended against our country by the Europeans and Americans, but despite sanctions we could act successfully by using our past experiences in the (8-year Iraqi-imposed) war and smart management and after a while, we were even able to export anti-coronavirus medical equipment to the European states too," Baqeri said on Sunday.
He added that the European states are as much as the US an accomplice in imposing sanctions against Iran.
Baqeri explained that during his recent meeting with the European countries' ambassadors to Tehran, he has underlined that Iran does not allow human rights to be contaminated with politics.
"We practically taught human rights to these countries by exporting anti-coronavirus equipment to them," he said.
On May 19, Iranian Vice-President for Science and Technology Sorena Sattari announced his country's self-sufficiency in production of equipment to fight against coronavirus.
"Now, our country does not need imports of equipment to fight against coronavirus and all the country's needs are met indigenously," Sattari told reporters in the Southern city of Bushehr.
He noted that Iran imported a number of equipment to fight against COVID-19 virus on the first days of the virus outbreak but it achieved self-sufficiency in manufacturing the hospital and ICU rooms equipment with the efforts of the knowledge-based companies.
Sattari also said that 8 Iranian knowledge-based companies have received necessary permissions for the exports of kits to diagnose coronavirus infection.
Iran started exporting of coronavirus-related hygiene products and medical equipment just a few days after the outbreak of the virus in late February, and the number of countries requesting Iran-made products keeps increasing.
Iranian knowledge-based firms export indigenous coronavirus test kits, face masks, serology test kits and ventilators, the main globally demanded apparatus for fighting coronavirus.