2021-April-13 11:43
Iran Produces Nano Dressing with Capability to Stop Bleeding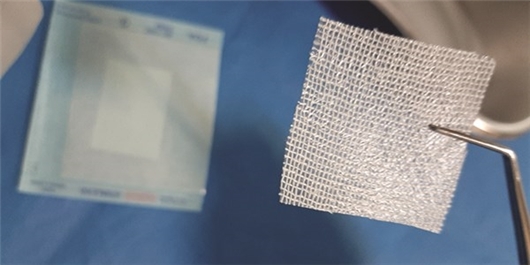 TEHRAN (FNA)- Iranian researchers used nanotechnology to produce a new type of wound dressing which can stop bleeding.
"Nano dressing is a product with the ability to stop bleeding. In this dressing, peptide nanofibers have been used for the first time with the ability to effectively stop bleeding. This led to the production of a product capable of hemostasis (cessation of bleeding) with very high biocompatibility," Tayebbeh Zahrabi, the head of the research team, said on Monday.
She added that biotechnology and nanotechnology have been applied to the production, noting, "In fact, the main dressing material, which is a peptide piece, was designed by the help of biotechnology know-how, and peptide nanofibers have been made by means of nanotechnology."
"This product can be used as a homeostasis by surgeons and orthopedic specialists. It can also be used by physicians and staff at emergency medical centers, hospital emergencies, and government facilities such as the Red Crescent, the Armed Forces, and the general public (as an important part of the first aid kit)," Zahrabi said.
In a relevant development earlier this month, Iranian researchers at the Faculty of Textile Engineering at Amirkabir University of Technology in cooperation with the University of Granada in Spain succeeded in modifying cellulosic textiles to produce wound dressings with antimicrobial and anti-cancer properties.
"In this study, we have used two types of metal-organic framework called glutamate-zinc framework as BioMOF and metal-organic framework (3.5-dimethyl-4-carboxy pirazolate-zinc as MOF)," Seyed Abbas Nourian Najafabadi, a textile graduate, said about his project 'Completion of Cellulosic Wound Dressing by Synthesis of Porous Metal-Peptide Nanostructures for Drug Release'.
He added that the study has been conducted in collaboration with the University of Granada for two years under Hemmatinejad (a faculty member of Amirkabir University of Technology) and Jorge Navarro (a faculty member of the University of Granada-Spain).
"By placing the drug in the porous structure of the metal-organic framework, controlled release of the drug is possible and the wound dressing can be used for a longer period of time. In this regard, using nitric acid gas (a gas with antimicrobial properties) and fluorouracil (anti-cancer skin) can be used for wound dressing with antimicrobial or anti-cancer pad properties," Nourian Najafabadi said.