2021-June-20 17:56
Society_Culture
2020-July-3  15:46
Iran Reports 2,566 New COVID-19 Patients, 154 Deaths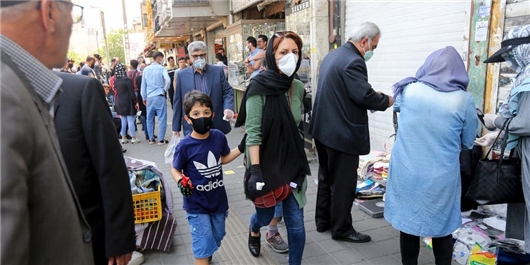 TEHRAN (FNA)- The Iranian health ministry announced on Friday that 2,566 new cases of infection to COVID-19 virus have been diagnosed in the country in the past 24 hours, adding that 1,483 patients have been hospitalized.
"2,566 more patients infected with coronavirus have been identified in the country in the past 24 hours, while 1,483 patients have been hospitalized," Iranian Health Ministry Spokeswoman Sima Sadat Lari said on Friday.
Sadat Lari added that the number of the people infected with COVID-19 amounted to 235,429 in the country.
"Unfortunately, 154 patients lost their lives during the past 24 hours, increasing the number of the dead to 11,260," she noted.
The health ministry spokeswoman expressed happiness that 196,464 patients have recovered or been discharged from hospitals.
Sadat Lari expressed concern that 3,123 of coronavirus patients are in critical conditions.
She also informed that 1,744,958 COVID-19 diagnostic tests have been conducted in the country.
The spokeswoman said that Khuzestan, Kurdistan, Kermanshah, Hormozgan, Bushehr, Khorasan Razavi and Ilam provinces are in red condition; while Tehran, Fars, Mazandaran, Hamedan, Zanjan, Alborz and Sistan and Balouchestan provinces are in alert condition.
Iranian President Hassan Rouhani said last month that over 1,000 medical centers in the country have received necessary equipment to conduct tests on people suspected of infection to coronavirus, and added that Iran ranks first in the Muslim world in scientific achievements.
"Based on a report [by the health ministry], 1,200 centers across the country are ready to take samples and tests from people and 17,500 nursing and health homes are also prepared to provide hygiene and treatment services to people," Rouhani said, addressing a meeting of the national coronavirus campaign headquarters in Tehran.
The coronavirus COVID-19 is affecting approximately all countries and territories around the world. The virus was first reported in the central Chinese city of Wuhan late last year. It has so far killed more than 524,500 people and infected over 11 million others globally.
The Iranian foreign ministry declared that despite Washington's claims of cooperation to transfer drugs to Iran via the new Swiss-launched payment mechanism, the US is troubling the process amid the coronavirus outbreak in the country.
Although US claims that medicines and medical equipment are not under sanctions, they have practically blocked the transfer of Iran's financial resources in other countries into the Swiss Humanitarian Trade Arrangement (SHTA), Iranian Foreign Ministry Spokesman Seyed Abbas Mousavi said.
As the death toll from the virus surges, Iran intensifies its preventive safety measures. Closures of schools and most universities have been extended until further notice.