2021-September-16 20:07
Politics
2020-July-3  15:53
Iran, Armenia Stress Enhancing Mutual Cooperation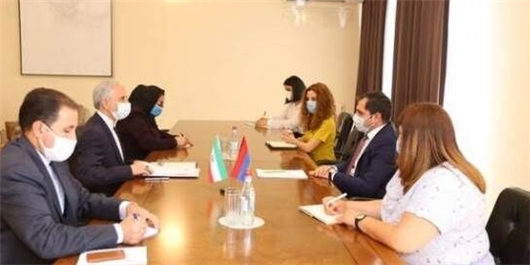 TEHRAN (FNA)- Iranian Ambassador to Yerevan Abbas Badakhshan Zohouri and Armenian Minister of Territorial Administration and Development Suren Papikyan in a meeting in Armenia's capital on Friday underlined the need for the expansion of all-out relations.
During the meeting in Yerevan today, the Armenian minister expressed hope that relations between the two neighboring countries would further expand during the tenure of the Iranian ambassador to Yerevan.
"The joint development plans by Iran and Armenia is indicative of the high level of cooperation between the two countries,"
Papikyan said.
The Iranian ambassador, for his part, voiced Tehran's readiness for further broadening of cooperation with Yerevan, and stressed the need to make use of the existing capabilities in economic relations.
The two sides also discussed the outlook of implementing joint plans for regional, transportation and energy infrastructure cooperation.
The Iranian ambassador and the Armenian minister also discussed the measures taken by both countries to contain the coronavirus disease (COVID-19) and those to tackle the subsequent economic crises as well.
In a relevant development in mid-June, Speaker of Armenia's Parliament Ararat Mirzoyan in a message urged for stronger cooperation between the Iranian and Armenian parliaments in a bid to improve the two states' ties.
Mirzoyan felicitated his Iranian counterpart Mohammad Baqer Qalibaf on his election and wished success for him and progress for the Iranian nation.
Armenian parliament speaker pointed to the age-old Yerevan-Tehran relations, and stressed the need to expand the amicable relations between the two neighbors in different spheres.
"On behalf of the National Assembly of the Republic of Armenia and personally me, I warmly congratulate you on your election in the high and responsible post of the Speaker of Parliament of the Islamic Republic of Iran and wish you success in the implementation of your mission," he added.
"I am convinced that during your tenure the inter-parliamentary cooperation between Armenia and Iran will continue its upward path and will give new impetus to the cooperation existing between the two countries for the benefit of our states and for the welfare of the Armenian and Iranian friendly peoples," Mirzoyan concluded.