2021-September-16 21:06
Great News': Trump Says of Increase in Number of COVID-19 Cases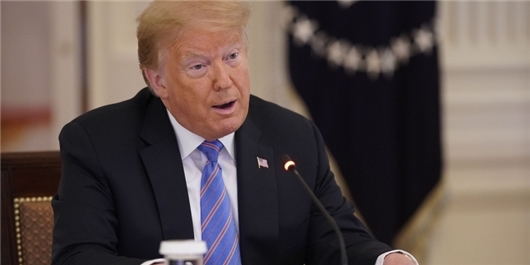 TEHRAN (FNA)- Even as Republican-led states roll back reopenings due to the significant rise in coronavirus cases and warnings from his own government that the pandemic is far from over, President Donald Trump continues to take an optimistic tone about the increased in diagnosed COVID-19 cases.
"There is a rise in Coronavirus cases because our testing is so massive and so good, far bigger and better than any other country," Trump tweeted late Thursday night, ABC News reported.
"This is great news, but even better news is that death, and the death rate, is DOWN. Also, younger people, who get better much easier and faster!" he added.
However, Adm. Brett Giroir, the man Trump appointed to oversee testing, testified at a House hearing Thursday that "this is a real increase in cases" and not just attributable to increased testing.
"There is no question that the more testing you get, the more you will uncover," Giroir said Thursday, adding, "But we do believe this is a real increase in cases because of the percent positives are going up. So, this is real increases in cases."
Giroir said the US is not flattening the curve right now.
"The curve is still going up," he testified.
Trump's positively also comes the same day as the Centers for Disease Control and Prevention updated its coronavirus death toll projections for July. Forecasts indicate that between 140,000 and 160,000 total deaths nationally are expected by July 25. The CDC forecast also suggests that the number of new deaths will increase in 11 states.
The US reported 52,815 new coronavirus cases on Thursday. This week was the biggest week-over-week jump since the third week in March, when testing had just begun to increase in the United States.