2021-June-20 16:21
Syrian Army Disbands US-Affiliated Terrorist Group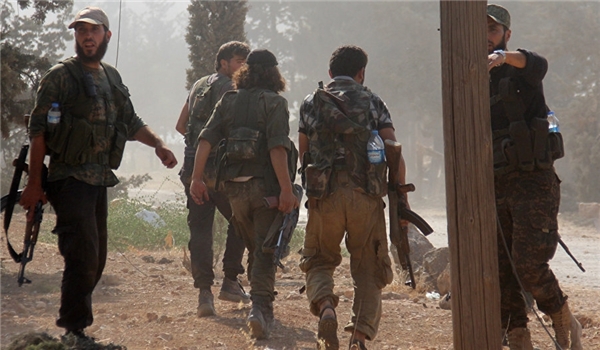 TEHRAN (FNA)- The Syrian army forces captured members of a terrorist group affiliated to the US in the Eastern parts of the country after killing a number of others in clashes.
The Arabic-language al-Watan newspaper reported on Tuesday that a terrorist group which had infiltrated from the US base in al-Tanf region in Eastern Syria into al-Boshra and Twitan region in Northwest of the town of al-Sukhnah was disbanded.
It added that three members of the terrorist group were killed and three others were arrested and their weapons and ammunition were seized.
In a relevant development in April, a terrorist group named Jeish al-Asha'er whose members were trained by the US forces in al-Tanf base in Eastern Syria had surrendered to the Syrian army, dissident sources said.
Ma'amoun al-Hamid, a member of the information office of Jeish al-Maqawir dissident group, told the Arabic-language Step News that members of Jeish al-Asha'er have fled the US training base.
He added that Jeish al-Asha'er had been present in Dara'a province in Southern Syria before the province was liberated by the Syrian army troops, noting that commander of the group named Abu Hamzah Asha'er came to al-Rukban region in Eastern Syria along with other militants before the group was dissolved.
Al-Hamid said that vehicles carrying Jeish al-Asha'er members were seen on Tuesday moving towards areas controlled by the Syrian army.