2021-June-20 17:27
Politics
2020-July-16  15:35
Chairman of Omani Senate Emphasizes Strategic Ties with Iran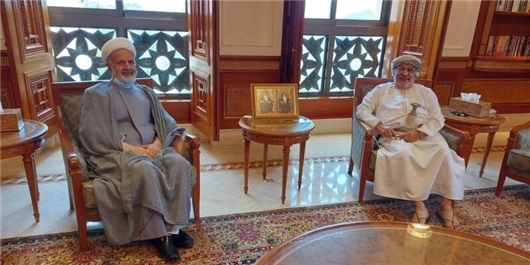 TEHRAN (FNA)- Chairman of the Omani Senate Yahya al Mantheri in a meeting with Iranian Ambassador to Masqat Mohammad Reza Nouri Shahroudi underlined the highly good and strategic relations with Tehran.
During the meeting on Wednesday, al-Mantheri referred to the very good and strategic relations between two countries in the political and economic fields, and admired the efforts of the Iranian Ambassador in Oman to strengthen ties between two countries.
Nouri Shahroudi, for his part, praised the government and the Oman nation for cooperation with him and the Embassy of Iran in Masqat to advance and strengthen relations between the two countries.
He went on to say that today relations between Iran and Oman are at a very good level and the authorities are trying to further bolster it.
Last month, Iranian Foreign Minister Mohammad Javad Zarif and his Omani counterpart Yusuf bin Alawi bin Abdullah in a video conference discussed bilateral relations and regional developments via videoconferencing.
During the meeting, which was also attended by high-ranking delegations, the two foreign ministers discussed various issues, including the latest regional and international developments.
They also stressed the need to boost mutual ties through continuous diplomatic talks.
Before the outbreak of the novel coronavirus, bin Alawi's paid visited the Islamic Republic for two times in January, in line with the two neighboring countries' politico-economic relations.