2021-June-20 18:25
Politics
2020-July-16  15:45
Iran Reiterates Support for Peace Process in Afghanistan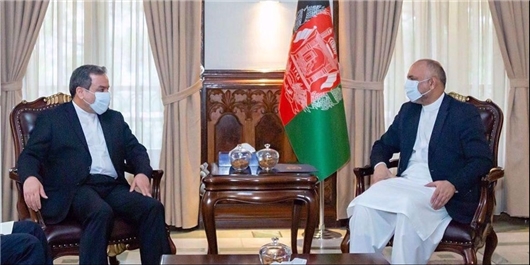 TEHRAN (FNA)- Iranian Deputy Foreign Minister for Political Affairs Abbas Araqchi underscored Tehran's commitment to help the Afghan government to establish peace in the war-hit country.
Araqchi made the remarks in a meeting with Afghanistan's Acting Minister of Foreign Affairs Mohammad Hanif Atmar in Kabul late on Wednesday.
He reiterated Iran's support for the peace process in Afghanistan, led by its government, and expressed hope that the intra-Afghan talks would soon kick off with the participation of all political factions.
Araqchi also stressed that the Islamic Republic of Iran stands ready to assist the Afghan government with advancing the peace process given the mutual concerns and interests of the two neighboring countries.
He further said Iran attaches importance to preserving the achievements made by the Afghan people regarding the constitution and democratic structures of their country after four decades of war.
During the meeting, the two sides discussed bilateral ties, peace process in Afghanistan, regional and international issues, problems caused by the coronavirus pandemic, and economic cooperation.
They also agreed on a roadmap and the time schedule to finalize a comprehensive strategic cooperation deal.
Heading a high-ranking delegation, Araqchi travelled to Kabul on Wednesday to follow up the agreements reached during Atmar's visit to Tehran last month.
At the conclusion of his visit to Iran on June 21-22, Atamar and Iran's Foreign Minister Mohammad Javad Zarif issued a joint statement, defining the road for bilateral cooperation in various fields, including common border security.