2021-September-16 19:49
Politics
2020-July-16  17:07
Iranian, Russian Presidents Discuss Development of Ties, Confrontation against US Unilateralism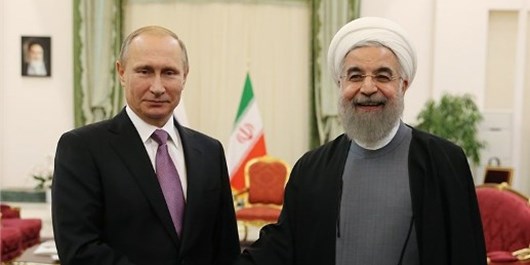 TEHRAN (FNA)- Iranian President Hassan Rouhani and his Russian counterpart Vladimir Putin in a phone conversation on Thursday underlined the two countries' determination to further expand bilateral relations, reviewing ways to stand against the US unilateral moves.
During the phone conversation, President Rouhani appreciated Russia's position in support for the Joint Comprehensive Plan of Action (JCPOA) and countering the US unilateral policies, emphasizing the need to develop and deepen Tehran-Moscow relations in all areas.
He underscored development of bilateral and balanced cooperation with Moscow at all political, economic, scientific and cultural levels, and called for consultations and talks between the two countries' officials.
President Rouhani expressed satisfaction with the implementation and operation of the mutual agreements.
He referred to the recent virtual summit of the leaders of Iran, Russia and Turkey with the aim of establishing peace and stability in Syria, and stressed the need for continued cooperation among the three countries within the framework of the Astana process to achieve this goal, specially in humanitarian issues.
The President also stressed the importance of maintaining and fully implementing the JCPOA as an international commitment to the signatory parties, and emphasised confronting unilateralism and recent US actions and efforts to prevent end of Iran's arms embargo.
He also stressed the need for cooperation between the two countries and the exchange of experiences in the fight against coronavirus, referring to the outbreak of the disease in Iran and other countries.
Putin, for his part, stressed the development of relations with Iran in all fields, and added, "We welcome cooperation with Iran in the field of coronavirus and exchange of experiences."
"As in the past five years, we continue to support this international document and insist on its implementation and preservation," he said.
Putin also stressed Russia's continued support for Iran's position in international bodies.
In a relevant development last month, Iranian Foreign Minister Mohammad Javad Zarif in a message to his Russian counterpart Sergei Lavrov called for the expansion of mutual cooperation at different levels.
"Fortunately, in the light of the determination of the leaders and high-ranking officials of the two countries, the bilateral relations have been growing in line with ensuring the common interests and preserving the regional and international stability and security," Zarif said in his congratulatory message to Lavrov on the occasion of Russia's National Day.
"I hope that such cooperation will continue and deepen in the future," he added.