Politics
2020-July-28  18:19
IRGC Commander: Iran's Arms Development Program Focused on Enemy Weak Points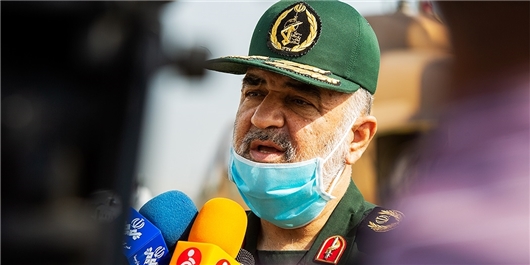 TEHRAN (FNA)- Commander of the Islamic Revolution Guards Corps Major General Hossein Salami said Iran's arms development program moves ahead with an eye on the weak points of enemies, adding that even the IRGC wargame scenarios are developed based on real enemies of the country.
"Development of our weapons and equipment is based on threat and real knowledge of enemies' weak and strong points," General Salami said on the sidelines of the massive Great Prophet-14 (Payambar-e Azam-14) wargames underway in the Southern province of Hormozgan on Tuesday.
"Our defensive doctrine is based on the production of home-made equipment and in every drill the quality of the tools and equipment is updated compared with the previous ones and the newly made systems and equipment are tested in actual operation," he added, and further pointed out that the IRGC conducts massive wargames in warlike situations within scenarios that have been developed with real enemies of the country in mind.
"Our policies for safeguarding the vital interests of the dear Iranian nation is defensive, meaning that we do not initiate aggression on any country, but in tactics and operation, we are completely aggressive," Salami emphasized.
He went on to say what was displayed in these Aerospace and Navy wargames, "was totally aggressive, stressing that, "we will take the initiative in operation".
"Assaulting the floating units of enemy in case of invading our interests, with a combination of offending missile operations and frigate units combat on the sea surface along with frigates' offensive mine laying were displayed in these drills," IRGC commander said.
"A combination of correct skills and techniques with proper employment of equipment, innovative tactics based on creativity in practical field, shape our wargames so that we are not faced with ambiguity in real conditions."
Great Prophet (Payambar-e Azam) wargames are annual missile tests and exercises conducted by Iran's IRGC. The first series of the wargames began in July 2008.
In recent years, Iran has made great achievements in its defense sector and attained self-sufficiency in producing essential military equipment and systems.
The Iranian Armed Forces several times a year test their preparedness and capabilities as well as newly-manufactured weapons systems in different wargames.
Iranian Armed Forces recently test-fire different types of newly-developed missiles and torpedoes and tested a large number of home-made weapons, tools and equipment, including submarines, military ships, artillery, choppers, aircrafts, UAVs and air defense and electronic systems, during massive military drills.
Iranian officials have always stressed that the country's military and arms programs serve defensive purposes.
Defense analysts and military observers say that Iran's wargames and its advancements in weapons production have proved as a deterrent factor.