2021-September-16 20:54
Politics
2020-August-1  13:36
Spokesman: Iran Believes Boosting Security Ensures Trade Exchanges with Neighbors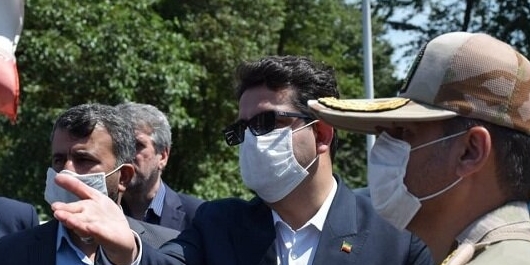 TEHRAN (FNA)- Foreign Ministry Spokesman Abbas Mousavi underlined that Iran has always been in favor of increasing security along its common borders, as the Islamic Republic maintains that it is only in this way that economic cooperation with the neighboring countries will be enhanced.
He made the remarks on Friday evening on the sidelines of his visit to the Astara Port Special Economic Zone
"Iran's Foreign Ministry has a special focus on expanding cooperation with neighboring countries," Mousavi said while stressing the importance of expanding economic cooperation with neighbors, specially the friendly and neighboring country of the Republic of Azerbaijan.
He reiterated that the Islamic Republic pays heed to the border security as it has has always favored broadening of mutual cooperation with its neighbors.
"The increasing border relations and developing economic cooperation will contribute to the region's economic security," Mousavi added.
He pointed out that Astara enjoys three borders of rail, land and sea, and the implementation of the Astara-Rasht railway is also high on the agenda of the two countries' officials.
Mousavi stressed the need for implementing Astara railway wharf project in the vicinity of Azerbaijan Republic, and said, "In the near future, as the Ambassador of the Islamic Republic of Iran to the Republic of Azerbaijan, I will consult with the officials of the neighboring state regarding this project."
In relevant remarks in mid-June, Managing director of Iran's North Railway Company Gholam-Hossein Valadi said that the Islamic Republic had considerably increased its non-oil export to its Northern neighbor Azerbaijan from Astara railway terminal during the first two months of the current Iranian calendar year (March 20, 2020-May 20, 2020).
"Iran exported 41,535 tons of commodities to Azerbaijan from its Northern city of Astara, showing a 178 percent increase compared with the figure of the corresponding period of the previous year," he said.
Valadi pointed out that cement, clinker, chemical products, tiles, steel, and home appliances were among the goods exported to Azerbaijan.
In early March 2017, Azerbaijan officially launched a rail link with Iran by sending a train across the border to Iran's Astara port city thus taking an ambitious multimodal transport project that connects Northern Europe to India closer to reality.
The train arrived in Iran simultaneously with a visit to the Islamic Republic by Azerbaijan's President Ilham Aliyev where he discussed the implementation of the North-South Transport Corridor (NSTC) with Iran's President Hassan Rouhani.
In addition to Iran, India and Russia, countries that are on board to integrate into the transit network include Armenia, Azerbaijan, Belarus, Kyrgyzstan, Kazakhstan, Ukraine, Turkey, Tajikistan, Oman, Syria and Bulgaria.