2021-April-12 11:56
Official: Iran Produces 70% of API of Drugs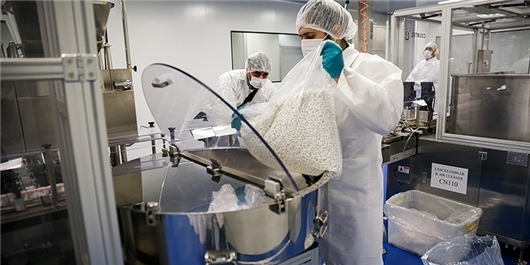 TEHRAN (FNA)- Iranian companies are producing 70% of the Active Pharmaceutical Ingredient (API) of medicine, an official said, adding that the country is self-sufficient in the field of drugs packaging.
"At present, we provide 100% of the country's needs to drugs packaging and we are self-sufficient," Secretary of the Syndicate of Manufacturers of Pharmaceuticals, Chemicals and Pharmaceutical Packaging Saber Nami told FNA on Saturday.
"Also, we supply 70% of the country's needs to the Active Pharmaceutical Ingredient, saving $1.2bln of foreign currency," he said, adding that 97% of necessary medicine is produced indigenously.
In relevant remarks in June, Director-General of Drugs and Materials under the Iran Food and Drug Administration (IFDA) Gholam Hossein Mehr Alian announced that production of drugs and medical equipment inside the country has saved nearly $400mln in a year.
"Our foreign currency consumption decreased 20% last year by focusing on domestic capabilities and we saved $400mln last year compared with the previous year," Mehr Alian said.
He underlined Iran's reliance on indigenous power in the current year, and said efforts are focused on production of medicine inside the country as far as domestic capacities allow.
Also, last September, Iranian Vice-President for Science and Technology Sorena Sattari announced that the country's experts have been able to obviate nearly all people's needs to medicine irrespective of the United States' harsh sanctions.
"Our researchers have bypassed the sanctions in all scientific fields," Sattari told FNA.
"At present, 98% of the drugs needed by our country's people is produced inside the country and by our researchers," he added.
Sattari underscored that the US sanctions have certainly created some problems for Iran, but such problems are not too big and too major to be resolved by Iranian researchers.
A couple of days before Sattari's announcement, Iran unveiled 6 new drugs produced by the country's experts with applications for MS, diabetes, cancer and cardiovascular patients.