Economy
2020-August-10  17:23
Iran-Afghanistan-Uzbekistan Transit Corridor Goes into Operation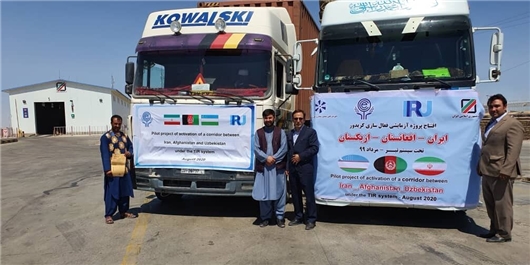 TEHRAN (FNA)- Iran put the pilot project of Iran-Afghanistan-Uzbekistan transit corridor into operation, as two trucks started on Monday transporting goods from Iran to Afghanistan and finally to Uzbekistan.
After the successful shipment of goods from Shahid Rajaee Customs in the South of Iran to Kyrgyzstan and Tajikistan on August 5, two transit cargoes from Shahid Rajaee port left Dogarun border customs for Afghanistan and continued their route to Uzbekistan on Monday, according to Islamic Republic of Iran Customs Administration (IRICA) Director of Transit Bureau Mostafa Ayati.
The development of transit corridors through Afghanistan as a short and low-cost route to Central Asian countries has been carried out with the cooperation of the International Road Transport Union (IRU), and Economic Cooperation Organization (ECO), IRICA, and Iran Chamber of Commerce, Ayati said.
"With the pilot opening of this corridor, it seems that Afghanistan is seriously determined to develop transit in its territory and connect Central Asian countries to Southern waters, including the Iranian ports of the Persian Gulf and the Sea of Oman," he added.
"The Islamic Republic of Iran is the most economical route for the transit of goods from Central Asian nations due to short access to open waters," the official said, adding that the development of new routes, including the Iran-Afghanistan-Uzbekistan corridor, will improve faster transportation of cargoes and reduce costs.
In relevant remarks last week, Managing Director of Sistan and Balouchestan Ports and Maritime Department General Behrouz Aqayee said that a Memorandum of Understanding (MoU) has been inked with Afghanistan's private sector on transit via Chabahar port.
Aqayee made the remarks on Wednesday and noted, "An MoU was signed with the Afghanistan's private sector at Chabahar port in line with expanding transit and investment cooperation."
Given the good neighborliness between the two countries, the MoU was signed to develop transit and investment activities of private sector of Afghanistan in the areas of transporting, attracting investor, logistics and transit within the framework of transit rules and regulations of the Islamic Republic of Iran, he further said.
Under the MoU, Afghanistan's private sector was assigned to transfer country's transit goods via Shahid Rajaee port in Chabahar to the target markets, the official added.
Transit cooperation between Chabahar port and Afghanistan has grown notably in recent years, he said.
Accordingly, 4 ships, carrying Afghanistan's transit cargos and two of its nuts cargos were sent to India and China respectively via Shahid Rajaee port.