2020-October-28 06:46
426
2020-August-12  21:54
Why Amnesty International Never Condemns Bahrain's Arms Suppliers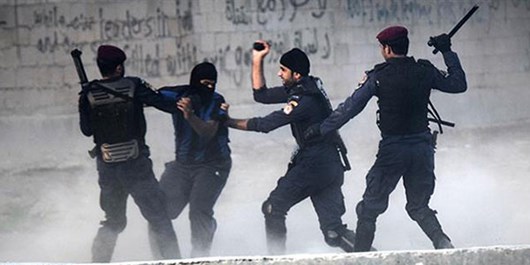 TEHRAN (FNA)- Amnesty International has a lot on its plate these days. It has just appealed to Bahraini King Hamad bin Isa Al Khalifah to commute all death sentences handed down to a dozen political inmates, amid growing criticism of the regime's judicial system for unfair trials and extraction of confessions under torture.
The London-based organisation has also asked the 70-year-old monarch to take the measure and to establish an official moratorium on executions.
On June 15, Bahrain's Court of Cassation upheld death sentence against political detainees Zuhair Ibrahim Jassim Abdullah and Hussein Abdullah Khalil Rashid. International human rights organizations say Ibrahim and other defendants were severely tortured to make confessions.
Sixteen rights groups have also urged the king of Bahrain to halt the execution of two citizens who are said to have "unfairly" been convicted.
Needless to say, this is yet another evidence that so-called reforms promised by the unelected regime after many years since activists across Bahrain rose up against the authoritarian Al-Khalifa regime have gone nowhere. Their protests followed the democratic movements that had taken off across the Middle East and represented a peaceful call for human rights and democracy.
As practised, the crackdown has only continued and intensified. The regime also introduced a new law that imposes jail sentences of up to seven years and fines of up to 10,000 dinars ($26,500) on anyone who publicly protests against the regime.
As a consequence, rights groups continue to chart and condemn "rampant abuses including torture, arbitrary detentions and excessive use of force against peaceful activists and government critics." Concerns have also been raised by the UN, but they have been ignored by the Bahraini regime and their allies as there is no action by the world body.
The UK government in particular has gone out of its way to strengthen relations with the regime, arguing that Bahrain is a country that is "heading in the right direction." This is in consequence of UN's inaction.
In 2011, when Bahrain was under martial law and UK-made armoured vehicles were being used by Saudi forces to protect the regime and allow Bahraini forces to crush the protests, then British Prime Minister David Cameron rolled out the red carpet for Salman bin Hamad al-Khalifa, the Crown Prince of Bahrain.
British government ministers and civil servants have also made regular trips to Bahrain to publically reinforce the UK's military and political relationship with the regime. It's not just politicians. There have also been recent visits from Prince Andrew and Prince Charles, as well as Bahraini royals visiting the UK to attend the Royal Windsor events.
The arms companies have treated the conflict as a business opportunity, with a significant increase in arms sales. The UK licensed millions of dollars worth of arms to Bahrain. These include machine guns, sniper rifles, gun mountings, assault rifles and anti-armour ammunition.
In 2014, a Defence Agreement was also agreed between the two nations. One outcome of this is that the UK was allowed to open a naval base in Bahrain, most of which has been paid for by Bahrain. In the UK, the news was proudly welcomed by government ministers who proclaimed it to be "just one example of our growing partnership," but in Bahrain it was met with angry protests outside the British embassy.
The protests were yet another reminder that the UK arms sales and military cooperation is the reason why the Bahraini regime is still cracking down on the pro-democracy protesters and why so many political prisoners are being executed.
The House of Commons Foreign Affairs Committee couldn't be right when it published a report on relations between the UK and Bahrain/ Saudi Arabia which concluded: "Both the government and the opposition in Bahrain view UK arms sales as a signal of British support for the autocratic regime."
It reminds the civil society that the UK government is still a partner in Bahraini regime's human rights violations, and that in politics London has taken the criminal regime's side, not freedom and democracy.
Words and deeds matter by Amnesty International, indeed. The organisation is expected to declare that the current partnership may benefit the Bahraini regime and those that make weapons, but the message it sends to those on the receiving end of the regime crackdown is that their human rights are also negotiable and that their lives are of less concern than UK arms company profits and its naval geopolitical games in the Persian Gulf.