2020-October-23 09:24
426
2020-August-27  09:35
Acclaimed American Filmmaker Slams US' Double-Standards on Human Rights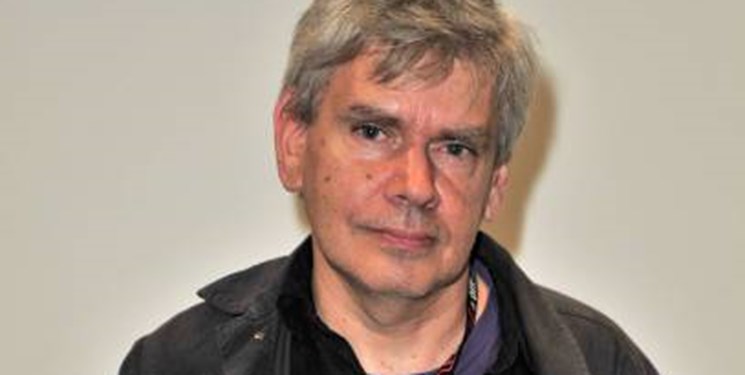 TEHRAN (FNA)- The American filmmaker and professor, John Gianvito said he believes that as one of the most powerful forms of art and communication, global cinema also plays a role in propagating variant forms of ideology, as many that are harmful to the human soul as those that speak truth to what Lincoln called the "better angels of our nature."
Speaking in an exclusive interview with the Public Relations and Information Center of 16th Resistance International Film Festival, Gianvito from Boston, Massachusetts, who served on the jury of the international documentary competition in the 15th International Resistance Film Festival, emphasized that he would support the festival's spotlighting of topics such as his own country's double-standards around the defense of human rights.
The full text of the interview is as follows:
Q: How did you find the previous edition?
A: When I was first approached with an invitation to participate on the jury of the 15th Resistance Film Festival I was immediately intrigued to learn that there existed such a festival dedicated to the vision of "a world without terrorism, racism, war, and occupancy" -- that there was a festival in Tehran that was championing films about the "Black Lives Matter" movement, films critical of ISIS [ISIL or DAESH], of Zionism, films supportive of women and of the representation of Muslim women in particular. The fact that I had never before heard about the festival I think speaks to the sad state of affairs between the United States and Iran more than it says anything about the festival itself. Offered the opportunity to participate in such a festival and to be able to travel to Iran, despite US warnings and bureaucratic challenges, and experience first-hand a small window inside one of the world's oldest civilizations and richest cultures was from my perspective a gift.
Q: How do you view the festival?
A: One of the first things that surprised me was simply a practical one -- the request from the organizers of the festival that the jury watches all of the competition films (and as I recall there were a lot of them, maybe 25 or so feature films and shorts) in advance of actually attending the festival. Having had the privilege of serving upon juries at other festivals, it is more typical that one watches the films during the festival itself, often though not always alongside the public audience. The second and larger surprise had to do with the selection of films themselves. True to its commitment to filmmakers and activists, here was the first time I had ever encountered a festival where content mattered above all.  Many were the films that quite honestly were making no particular contribution to the art of filmmaking, many that were straightforward and conventional in their formal aspects, some even technically rough, but yet each addressing topics that should be of grave importance to us all. I respected this preferential treatment to content over form. And, indeed, there were to be found a number of works that powerfully combined superior cinematic skill and expression along with meaningful content. Had I not attended the Resistance Festival, I may never encounter such extraordinary works such as Reza Farahmand's WOMEN WITH GUNPOWDER EARRINGS, Jeremy William's ON A KNIFE EDGE, and Khadija Al Salami's YEMEN: KIDS AND WAR, among others.
Q: Cinema is regarded as one of the means of soft power. What role does the cinema play in strengthening or weakening the unity among people?
A: Setting aside the current COVID19 crisis that has shuttered most cinemas around the globe, since its inception, a key dimension of the pleasures of movie watching has been the communal experience -- the sharing of emotions and ideas, the infectiousness of laughter, the bonding with strangers taken through a powerful journey together. It is, for this reason, I continue to believe that cinemagoing will not disappear (although economic factors continue to threaten its existence all over).
That said, as one of the most powerful forms of art and communication, global cinema also plays a role in propagating variant forms of ideology, as many that are harmful to the human soul as those that speak truth to what Lincoln called the "better angels of our nature".  As such film festivals everywhere have responsibilities for the images that select to put before us as well as the images they decide to exclude. With its commitment to principles of fundamental human rights, I support the International Resistance Film Festival's spotlighting of topics such as my own country's double-standards around the defense of human rights. And while I also support exposing all propaganda promulgated against Iran including fake news stories, I think every nation must also have the courage -- and it often requires tremendous courage -- to be self-critical with regard to governmental abuses of human rights. This includes Iran and Syria as well as the US, Russia, China, Israel... in truth it is nearly impossible to declare that there is a country anywhere on this planet in which authoritarianism and the abuse of power do not exist and which needs to be called out into the open. I recognize however that we all work within the realm of what is possible, but at the end of the day we still all must look ourselves in the mirror.
Q: Based on your experience, do you believe the moves such as the Resistance International Film Festival would ultimately result in the convergence of the people around the world?
A: There is an old saying that one 'shouldn't hide one's light under a bushel', meaning do not conceal from the world your talent and ability. I certainly wish more of the international film community was aware of such events as the Resistance International Film Festival and I feel it holds much potential to bring together progressive filmmakers, critics, and activists from around the world in solidarity around the many important themes of the festival. Organizing even more panel discussions, workshops, opportunities for audiences and filmmakers to interact, share meals, share ideas -- there are many opportunities for such an event to plant useful seeds that can spread and grow.
Q: Are there other points you would like to raise?
A:  While it was for a Westerner such as myself quite unexpected, I have to say that I was very moved by the consistent integration of politics and culture through every aspect of my experience of the festival. This was most especially heightened during the final gala awards ceremony wherein each of the juries stood alongside family members of Iranian martyrs, seeking to ensure that none of us lose sight of the reality of the consequences of war.  This was also very manifest to me one afternoon when the festival guides sought to assist the jury to exchange some currency at an Iranian bank. After more than an hour's waiting, with no one, not even local customers able to withdraw funds, we had another small window into the stark consequences of the brutal and inhumane US sanctions against Iran, sanctions that only hurt the citizenry and accomplish nothing but creating more animosity and more misery.  Lastly, I would be remiss if I didn't also make mention of the truly considerable warmth and generosity, I experienced by everyone I met involved with the Resistance International Film Festival. They welcomed me and my fellow jury members from around the world as if we were members of their family, everyone from our drivers to the festival director himself. I felt honored to be able to participate in such a unique venture and it remains one of the most memorable festival encounters of my life.