2020-November-25 11:12
Economy
2020-August-31  14:20
Iran's Exports to Iraq Surge Compared to Early Months of Coronavirus Outbreak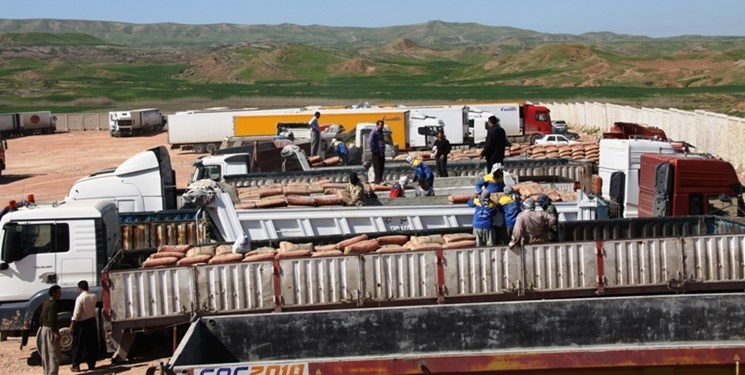 TEHRAN (FNA)- Exports of Iranian products to Iraq have grown compared to first few months after the coronavirus spread in the region, Secretary General of Iran-Iraq Joint Chamber of Commerce Hamid Hosseini said.
Hosseini said that current monthly value of exports indicates a 30% increase compared to initial months of the current calendar year when borders to neighboring countries were closed to contain the spread of COVID-19.
He noted that, however, exports to Iraq had fallen by almost a third compared to a monthly average seen in 2019.
"The monthly average (value) of exports to Iraq over the past year was $750 million which is more than this year's average of $500 million," the official said.
The $500-millon mark reached over July-August was a record this year, as claimed by Hosseini who added that total exports between March 20 and August 21 had surpassed $2.44 billion.
"Around 3,000 cargo trucks are transferring Iranian exports goods to Iraq every day and thus exports to this country is flowing on full capacity," he told FNA.
In relevant remarks in July, Hosseini said that Iran exported over 5 million tons of commodities worth nearly $1.45 billion to Iraq during the first quarter of current Iranian year (started March 20).
Our exports to Iraq had a hard decline with a 19.35% and 57.45% decrease in terms of volume and value compared to the corresponding period of last year due to the coronavirus outbreak, Hosseini said on Friday July 17.
He added that 16,000 trucks transported goods from Iran to Iraq through the main borders, attaining a $970 million revenue.
Noting that Iraq is Iran's second exports destination after China, the official expressed hope that the situation would improve soon as both countries are trying to resume mutual trades after some five-month strict period.
Iran exported $9 billion worth of goods to Iraq last year that ended on March 19 making it Iran's top destination among the neighboring states.