2020-October-30 16:46
Society_Culture
2020-September-24  16:06
16th Resistance International Film Festival Inaugurated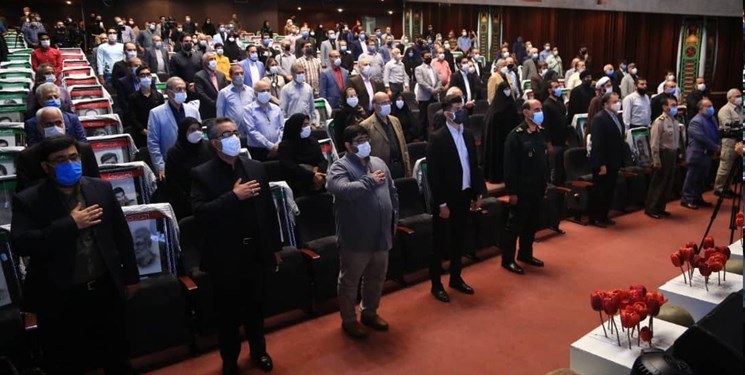 TEHRAN (FNA)- Iran's 16th Resistance International Film Festival inaugurated in Tehran's Sacred Defense Garden attended by several high-ranking officials and cinematic figures.
Several high-ranking officials including Deputy Commander of Iran's Basij (Volunteer Force) Brigadier General Mohammad Hossein Sepehr, Brigadier-General Shahin Taqikhani, Head of Iran's Health Ministry Public Relations Office Kianoush Jahanpour, head of the festival Mehdi Azimi-Mirabadi, head of the Public Relations and Information Centre of the festival, Seyyed Ahad Mikaeilzadeh, martyr families and several reporters.
Addressing the ceremony, Deputy Commander of Iran's Basij (Volunteer Force) Brigadier General Mohammad Hossein Sepehr described Sacred Defense as one of the most important issues in the past 200 years.
He added that the treasure of the Sacred Defence has come to us, hence we and all the nations of the freedom-seeking nations can utilize this treasure and announce its message to the whole world.
"We must convey the cultural and artistic message of the Islamic Revolution and resistance to all the world. We must build the best cultural works in the Islamic Republic and our cinema must be the language of resistance, epic and sacrifice of martyrs" Commander Sepehr added.
"We have stood in front of the world with empty hands and no incident in the last two hundred years has been more important than the years of Sacred Defence, he concluded.
In the meantime, Azimi said the event has been highly welcomed by a huge number of Iranian artists and audiences.
He also hailed the martyrs who have sacrificed their lives for safeguarding the Islamic Revolution.
Azimi also urged the officials to do their best for forging unity in the country and safeguarding the Islamic Revolution.  
International Resistance Film Festival inaugurated on September 21st and will be wrapped up on 27th, coinciding with the Sacred Defence Week covering the sections "Health Defenders" and 21st to 27th November in sections "Main Competition", "Resistance Prominent Martyr - Special Section", "Best Film Competition in Absolute Sense" and" Narrations of Pen - Scriptwriting Competition. "